How to decide on a great name for your cat! Every budding pet owner gets super excited in bringing home their recently acquired kitten. One of the first things that goes through their mind is… "What shall I call it?" We have put together a "Unisex Tabby Cat Names" guide to help.
Our biggest tip for you is to never name your furry feline before you receive it. It is important to see your cat and to get to know its personality. The name you choose may be inspired by your cat's appearance, its breed, and its personality.
Keep it Short
I recommend keeping the name short, maybe consider a human name, or a name inspired by a hero or character from a story or movie. Cats of specific breeds may be suited best with a name reflective of its breed, for example, a female Sphynx Cat would go well with the name Cleopatra.
Involve the Family
Make sure you involve your family with selecting a name. They will come up ideas that you will not have thought of.
If need be, wait a few days before finalizing a name. See what evolves. As you play with your new cat, little nuances of their personality will reveal themselves. You will start to toy with some names, and perhaps one of these names will stick.
Do Cats Recognize Their Own Names?
Sometimes you would think not, as cats are notorious for their indifference to us humans- cat owners everywhere will testify to how readily these creatures ignore them when they are called. However, you can be rest assured that domestic cats do recognize their names. It is funny how they will ignore you, yet come running when called for food!
Do You Have to Name a Cat?
I guess that will be up to you. However, I think it would be difficult to call your cat if it doesn't have a name. When I was a boy, we had a black and white cat called "Cat". He was not a particularly friendly cat, maybe he became this way because of his name.
A Two Syllable Name, or a One Syllable Name?
This is a good question, as in the dog world, advice from dog trainers is that they respond better to two syllable names. This may be the case also with cats. Cats are better at learning names that consist of only one or two syllables. Longer names lose their attention. They react especially well when their name ends with an "ee" sound like Fluffy, Lucy, Ebony, Chloe, Toby, Harry or Rosie.
With the remainder of this article we have formulated hundreds of perfect cat name suggestions to help you with the challenge of; how to decide on a great name for your cat. Good luck and have fun with it!
300 Unisex Tabby Cat Names
Badass Gangster Cat Names
 AK47
Baby Gangster
Bullet Claw
Brewer
Big Al
Big Papa
Breaker
Bruise
Popular Female Cat Names
 Bella
Chloe
Molly
Lucy
Sophie
Lily
Luna
Gracie
Names For Grey Cats
Cinder
Earl
Freya
Lavender
Gandalf
Goose
Grigio
Meredith
Cute Names for Calico Cats
Pixie
Mittens
Fawn
Squeaks
Boo
Pebbles
Dumpling
Honey
Black-and-White Cat Names
Ash
Butler
Bandit
Dottie
Barcode
Charcoal
Inky
Inkblot
Famous Cat Names for Siamese Cats
 Sagwa- from Sagwa, the Chinese Siamese Cat
Ayesha- from the novel Phantom
Tao- from The Incredible Journey
Skippyjon- from the Skippyjon Jones books
Kokofr- om The Cat Who…
D.C.- from That Darn Cat!
Yum Yum- from The Cat Who…
Henry- from the children's book Cross Country Cat
Remarkable Ragdoll Cat Names
Archie
Aurora
Chewbacca (Chewy)
Luna
Zelda
Pandora
Houdini
Maverick
Cute Persian Cat Names
Akira
Jasmine
Bleu
Chanel
Everest
Cleo
Diva
Jewel
Magnificent Burmese Cat Names
Alchemy
Dinah
Alice
Blossom
Beans
Chloe
Eddie
Grayling
Tongue-in-Cheek Names for Hairless Cats
Lucille Bald
Shave Brubeck
Hairy Styles
Lady Godiva
Bald McCartney
Fuzzy
Fluffy
Peach Fuzz
Unusual Wild Cat Names
 Acinonynx (Cheetah)
Catopuma (Asian golden cat)
Aurata (African golden cat)
Caracal (Caracal Lynx)
Chaus (Jungle cat)
Colocolo (Pampas cat)
Concolor (Puma)
Badia (Borneo bay cat)
Some of the Most Popular Cat Names of 2022
Luna
Leo
Bella
Milo
Oliver
Max
Charlie
Lucy
Names for Black Cats
 Inky
 Dusk
 Gray
 Twilight
Ebony
Pitch
Graphite
Shadow
Popular Orange Cat Names
Leo
Tigger
Ollie
Pumpkin
Penny
Tiger
Sunny
Rosie
Unique and Funny Cat Names
Grizabella
Skimbleshanks
Mr. Mistoffelees
Macavity
Rum Tum Tugger
Bombalurina
Munkustrap
Jennyanydots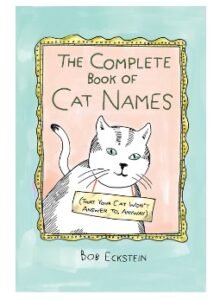 Names For Your Maine Coon Cat
Queeney
Thunder
Popcorn
Fluffy
Snowflake
Majestic
Grizzly
Blizzard
Best Manx Cat Names
Angel
Midnight
Lucky
Cleo
Chloe
Oliver
Missy
Boots
Names for a Tabby Cat
Tabitha
Smokey
Oreo
Calico
Fluffy
Checkers
Simba
Cinder
African Heritage Exotic Cat Names
Abasi – meaning 'serious' (Egyptian)
Inama – meaning 'wild animals' (Zambian)
Annipe – meaning 'daughter of the Nile' (Egyptian)
Hamisi – meaning 'Thursday's child' (Somalian)
Azizi – meaning 'precious' (Egyptian)
Kamilah – meaning 'perfect' (Egyptian)
Lencho – Meaning 'lion' (Ethiopian/Kenyan)
Goya – meaning 'wild cat' (South African)
Simba- meaning 'lion'
Cat Names for Fluffy Cat
Bear
Charmin
Fluffy
Cotton
Fluff-master
Feathers
Flannel
Downy
'Food' Names for Tortoiseshell Cats
Truffles
Pumpkin
Snickers
Nutmeg
Fudge
Paprika
Ginger
Peanut
Nerdy Cat Names
Gizmo
 Chewie
Bones
Finn
Ash
Neo
Ninja
Cookie
Cat Names Inspired By Popular Movies
Luna—Luna Lovegood (Harry Potter movies)
Oliver—Oliver Twist (Oliver!)
Max—Mad Max (Fury Road)
Lily—Lily Luna Potter (Harry Potter movies)
Bella—Bella Swan (Twilight)
Kitty—Kitty Bell (Sailor Moon)
Lucy—Lucy Pevensie (Chronicles of Narnia)
Charlie—Charlie Chaplin & Charlie Brown
Cat Names for the Sphynx Breed
Anubis
Bastet
Ramses
Amun
Horus
Osiris
Ra
Cleopatra
Cat Names for the Bengal Cat
Leopard
Amber
Leo
Tiger/Tigress
Lion/Lioness
Butterscotch
Hemang
List of Unisex Tabby Cat Names
Shadow – shadows are always dark and mysterious.
Phantom is the perfect description for quiet, hidden places.
Fog. Fog is an emotional tendency that mimics the behavior of some cats.
Midnight . There is nothing deeper or more mysterious than this moment.
Dracula is a famous, dark and mysterious character.
Casper – Since the movie, the name has been associated with the unusual, making it ideal for black cats.
Crow is a classic black creature that is perfect for a black cat.
Ophelia is a beautiful name derived from a dark and mysterious piece.
Ghetto . The name "cat" in a foreign language gives it a sense of mystery and enigma.
Ozzy – Better to name a black cat than a secret princess?
Elvira – she is the lady of darkness, even if you don't know her. The name is definitely a secret.
Please – This movie has a wonderful character of Aladdin.
Unisex Tabby Cat Names Continued…
Dina is an interesting name for a character from Alice in Wonderland.
Lucifer is an interesting name for a character from Cinderella.
Boom Boom is an interesting name for a Cinderella II character.
Me is an interesting name for a character from Lady and Trump.
Y is an interesting name for a character from Lady and Trump.
Figaro – this is the name of an interesting character from Pinocchio.
Jadon – this is the name of an interesting character from Pinocchio.
Sabur is an interesting name for a character from Tarzan.
Mike is one of the main characters in The Godfather I.
Ajax – Ajax is the name of new technology in the world of software provision.
Alchemy . If you love science then chemistry is a great name for your cat.
Alley – if you dreamed about a mysterious street, this is a cat's name.
Aristotle – Aristotle was a great philosopher, and your cat could have had that name.
Arturo – Arturo was the name of a great king, but you can find a piece of him.
Asia. Asia is another great name for pets.
Axana – Your cat might use this strange name too.
Baker . A baker can do something good for you, and your cat can use that name.
Glamorous – This amazing Spanish name could be the next big thing for your dog.
Bella is a beautiful Spanish name and your cat will love it.
Swallow – An angel is the best person in world literature.
More Unisex Tabby Cat Names…
Alaska . Alaska is one of the best US states.
Alpine – This name is associated with something superscript.
Arctic . The Arctic is a very remote place where you can spend the night of your life.
Avalanche Repentance . The avalanche offered confusion and boldness in one place. time.
Trick – If you like the class, this name is now for your cat.
Christmas . This time of year is really cool and your cat will love it.
Black is the most common name for a black cat and a great name for your pet right now.
clouds – a cloud is a wonderful symbol of the greatness of nature in general (ideal for brown cats).
coconut – coconut is a wonderful fruit and name Great for your cat.
Free – this could be your cat's nickname for a donkey.
Delphi – Oracle in Delphi makes me think about philosophy.
Falcon – watch the hawk today for some fun.
Gertrude is a name of Spanish origin.
Galina – Today your cat must use this strange name.
Easter – reminds me of the Bible or something like that.
Evgeniya is another great name for any cat.
Win is a crazy game for my cat.
France is another name for the Spanish race.
Farzana – This will make your friends laugh.
Franny is the name you've been waiting for.
Butterscotch – The most common type of F dessert is usually made with brown sugar and butter.
amber – resin color changes Fossils translucent to yellow
Unisex Tabby Cat Names Continued…
competition – small pieces of colored paper
mosaic – an image or pattern created Put small colorful pieces together.
Peach – juicy yellow fruits
Mona Lisa – in the name of the famous painting
Spices is a substance used in food to add color and flavor. li>
Autumn – the period after summer and pre-winter, when everything is yellow or brown
Orange – reddish – yellow or gray, a popular spice.
Lily . This means that your cat is big, sharp and even animal. Beautiful as a lion
Rainbow – made from different colors or from a mixture of colors
Amber – and has a good name. Give your cat Always keep About its shine
Shady There is a black cat around the house, she must have a name.
Ideal name for a black cat smoker .
9 Best Cat Chew Toys to Buy in 2020
Noise – The name came from the past, like the past.
Hawksbox – An intelligent cat lives in the house, which must have a name.
Pepper is a great name for a bubbly cat that plays all day.
Hershey . This is an interesting name given to a cat that expresses love to its owner.
Phantom – mention the name of a person who likes to walk alone.
Unisex Tabby Cat Names 
…more unisex tabby cat names to consider!
Godiva is the name given to a cat that is as strong as metal.
Bellsbub Give your cat what she doesn't like at home.
Morticia – This name is based on a fictional character who created it.
SCE – If your cat is good-natured and hyperactive, this is the perfect cat everyone needs.
Usher Sign of good luck, happiness and good luck
Patty – Do you have a crazy or crazy cat? Then there is a name that matches his insane personality.
Black – Do you have a black cat at home? Now your name.
Blue – Any cat that is sad or sad about the house should be called this one.
Buster – Give to someone who loves to break or break something What's in your house.
Caramel – The sweet cat everyone loves is her soft gummies.
Opportunity – If you have a lucky cat, she can make you lucky. Chance is the name of the game.
Charles – Present this strong, passionate cat.
You can go around the house all day. tiresome.
Ammonite – a cat that loves disappearance and loneliness.
Aaron – This valuable name is given to a large cat that does not cause any problems at home.
Apophis is named after an ancient Egyptian mythical monster.
Bugira is a friendly, caring cat.
Bobby is a great name for this cute and adorable cat.
Bolina – comes from Greek mythology about a nymph.
The Last of Our Unisex Tabby Cat Names Ideas
Celandine . An interesting name for a short-haired cat.
The Crew The name comes from Greek mythology, in which there was one of the titans.
Fat Full name of the cat that is kept safe at home.
Dionysus is a playful cat that does nothing but jumps all over the place.
You may have a confused cat. This is for the label.
When the biscuits are sourced from France, the name indicates a crusher or biscuit.
Chlorochlor is a type of spice.
Gypsy Gypsy is an English word for vagrant.
Part of the body with a very large body and thick skin. Bearcat boy name.
Coal is a dark, common cat name.
Gina is the English name for a white-tailed cat.
So how did you go? Were you able to decide on a great name for your cat? Did you gravitate towards any of the unisex tabby cat names suggested? Leave us a comment with what you decided.
Check out our article all about the unique facts about Calico Cats.