Are you like most cat owners sick and tired of your furry little feline chewing on all your favorite and expensive furniture, curtains, clothes, rugs and practically anything else they can get their hands on? There is no doubt that cats like to sink their teeth into stuff almost as much as dogs do but there is no need to fret as we have a great solution for you all.
The answer lies in the form of cat chew toys that come in every shape, form, and taste known to the cat! A chew toy is not just a great option because it will stop your cat from ruining the house, but also because it will provide that important stimulation that your cat desperately needs which is what makes them act out in the first place. Pet cats do not get the same kind of activity like feral or wild ones to do so this is only natural.
This review is going to walk you through nine of our top picks for the best cat chew toys that entertain, soothe and stimulate all at once. Take out word for it, buying your cat some tempting chew toys to direct their attention to something else for once is actually pretty healthy for the animal.
Here are a few things to keep in mind while making a purchase for a chew toy that will be best for your cat. Look for a chew toy with features that will help your cat to play or encourages a lot of stimulation and this may include it containing catnip which attracts them like crazy along with rattles and even crinkling.
Another important element is the durability of the toy as cat chew toys need to be sturdy and sufficient to bear the brunt of your kitty's teeth. The dental health of your cat is another aspect since many cats chew toys are specially designed to do away with plaque and decay. Always make sure that the toys you select aren't too easily bitten apart and aren't all threads.
Our top pick for this article is Petstages Dental Health Cat Chew, that hits the sweet spot regarding price, and popularity. If you have time to read reviews, then keep reading.
Best Cat Chew Toys 2020
Let's take a look at the comparison chart to help you quickly find the best cat chew toy for your animal.
Now, that we have listed the 9 picks of best cat chew toys for you along with some pertinent features, we are going to jump straight into the reviews.
First up on today's list, we have the Petstages Dental Health Cat Chew Toy, which contains two parts to the toy. Petstages has a lot to offer and while we will be looking at many, this particular one is all about the dental health of your cat. Instead of just having catnip powder inside to get your cat excited, this product comes with fibrous catnip stalks along with the normal kind to double the dose and give them a nice chewable texture for the cat.
This along with the netting on the outside is great for the teeth and gums as it encourages the massaging and stimulating gums especially since it gently removes any plaque from the teeth as well. This toy is far stronger than it looks as it is super long-lasting and can take no matter what your cat throws at it!
Like we mentioned earlier, while the texture and taste is important, for pets of any kind it is bright or noisy attachments that actually really reel them in and this product achieves that via its cool knotted streamers which trail behind the product and really excite your cat, keeping them occupied for hours.
One inherent flaw is that the size and shape of this chew toy make it restricted to smaller cats or kittens as larger ones may tear it apart.
Buy on Amazon
Next up we have the Petstages Night Time Catnip Rolls which are named such since they can satiate your cat during the late hours at night while you are asleep and since they are so quiet everyone wins. Your cat will go about their playtime while you sleep peacefully without being disturbed.
This is all thanks to their smooth and quiet fabric which makes them perfect for owners who wake up easily. Since these are shaped like rolls, they are super easy for your pet to bite into and are stuffed with delicious catnip that is enough to keep your cat hooked.
As a drawback, however, it can be said that since the roll based shape makes it easier for cats to chew, for cats that are heavy chewers, this product will not last very long. So if your cat is larger or chews a lot, you might want to keep on looking.
Buy on Amazon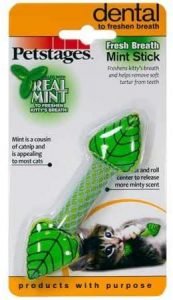 The thing about any pet is that just like humans, their breath can start to stink if dental or gum related hygiene is not being considered. In comes the Petstages Fresh Breath Mint toy which not only freshens up your kitty's breath but also helps fight tooth decay and issues.
Since mint much like catnip is irresistible to cats, you won't have to worry about them not being happy with this product and the ingredient is 100% sweet-smelling mint to ensure that the cat is at ease when they chew. In order to adjust and alternate the amount of minty goodness your cat needs, simply press and roll the center to release an even greater minty scent.
Why should we simply freshen up your pet's mouth and leave it at that when you will also get special netting that will act as a cool method of flossing your cat's teeth as well! What's even better is that there are absolutely no fillers in this product as it just contains freshly dried mint.
Buy on Amazon
Next up we have another Petstages product which is a really cool design as it is in the form of a cat's favorite plaything! That's right you'll relive your favorite cat and mouse adventures as the Catnip Chew Mice Toy is not only going to entertain your feline but also you!
The toys are shaped like really colorful little mice that will guarantee that your cat will not tire of this design. They are also filled with catnip and are pretty lightweight as compared to other chew toys as they are tiny and thus will be easy for your cat to throw around and take anywhere. Petstages toys have a knack for committing to dental health as much as they do for entertainment and this device is no different as the special netting will help take away any decay or plaque from your cat's teeth along with providing a soothing massage on their gums.
Buy on Amazon
Next up we have the CatTwig Silver Vine Sticks which are and alternative for cats that do not react well to catnip but offer the same high and buzz that your cats crave. It will not only stimulate your cat but will also soothe them down for later so they aren't as hyper when you want some peace.
Just like catnip based toys, this product is completely natural and unprocessed, so there are no toxins or harmful products in them. One pack comes with six which will last you a long time. The packaging is also a plus as it can be resealed to preserve that freshness.
One drawback is that just like some cats do not care for catnip, this could also garner no response from your cat and your money will go to waste but at a normal enough price, that should be a risk you are willing to take.
Buy on Amazon
The Kong Cat Wubba Hugga is next on our list and it is such a good product for your cat as it has been made keeping your feline friend's need in mind. This is one of the most physically stimulating toys on the market as it is rugged enough to encourage a fairly healthy amount of chewing from your cat. Since it has a larger body it becomes perfect for cats of all sizes and even the sleeker tail is exciting to the cats.
Overall and design-wise, it works on the primal desire of your pet to engage in some healthy predator-like behavior and thus is great for your pet's emotional growth as well. Your cat will show a lot of interest in this product as the design garners an almost wrestling kind of response and kicking towards the tail, as well as some aggressive chewing.
The best part, however, might be that it also rattles and crinkles thanks to attachments so you can be sure your cat will be placated for a while and the premium quality catnip inside is enough to keep your cat coming back for more.
Buy on Amazon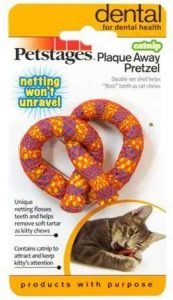 Catnip Plaque Away Pretzel by Petstages smooth teeth and rubdown gums to improve your cat's dental fitness! Durable netting won't unravel no matter how hard your kitty chews. Catnip entices their experience of smell while fibrous catnip stalks satisfy the urge to crunch and bite.
Knotted streamers turn and flop all over the place, making them bonkers for this amusing toy!
This plaque-away pretzel by means of Petstages can be the precise bite toy for small cats and kitten at the same time as also performing as a dental toy.
Its vivid orange netting works well to eliminate gentle tartar out of your cat's teeth while they may be playing with it.
The toy contains catnip that allows you to entice your cat and maintain its hobby.
You can also effectively leave inside the paws of a teething kitten, and it's far one of those teething toys that even grownup cats like.
Cats might lose interest with it pretty quickly
Buy on Amazon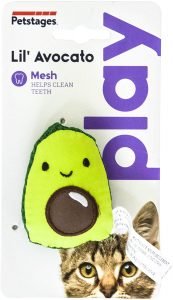 Next up we have the Petstages Catnip and cat Toy which is designed in the absolute cutest little avocado design. To be fair this design is probably more for the millennial in you than your pet who would be happy with any design, but why should they have all the fun?
Called the Lil' Avocato (clever right?), this toy is fitted with mesh material that helps to enhance your cat's dental health thanks to a unique flossing and cleaning motion that impacts their teeth and gums as your cats chew. The toy is practically weightless which allows your cats and even tiny kittens to move it around with absolute ease.
Of course, like all successful cat chews toys, this one is also filled with catnip which is proven to be a great stimulant for cats of all shapes and kinds.
Buy on Amazon
Last but definitely not least we have the Norton Cat Toothbrush Catnip Toy which is aptly named as it is the perfect way to get your cat to clean their teeth by themselves. If any cat owners know the pain of having to force your cat to brush their teeth, this will be the chew toy you are looking for! Not only will your cat be left with clean and healthy teeth but no longer will be there any bad breath involved!
The exterior is not made from a tear-proof material which is rubbery in nature and thus will last you a long time without any issues. The product is also pretty tiny which makes it so easy to carry around with you for your pet no matter where you go.
This is also a non-toxic material that will not cause your cat any harm no matter how rough they chew and play with it so you can rest easy.

That's all for this list of best cat chew toys, I am sure you will be able to choose the right one for your cat.
Buy on Amazon