Best Cat Chew Toys- What You Need to Know?
Not all cat chew toys are suitable, or even safe for your cats- here are a few things to be aware of when choosing toys for your kitty:
Look for a chew toy with features that stimulate your cat's senses. Toys that move, twitch, flip, crackle, squeak and rattle.
Cat chew toys need to be sturdy and able to bear the brunt of your kitty's teeth and claws. Avoid toys that fall apart or are easily shredded.
Toys that are catnip-infused will entice your cat.
Toys need to be safe for your cat. You do not want them swallowing chipped paint, dyes, plastic bits, or wayward screws and staples that have broken off the toy. Cats chewing timber that has been laminated with chemical adhesives such as formaldehyde would not be a good idea either. Nor do you want your cat getting caught in tangled string.
Where possible, seek toys that are natural, such as silver vine sticks. These are perfect for the dental health of cats.
Is it Safe for Cats to Ingest Silver Vine Sticks or Catnip?
Though many owners wonder if cats can overdose on silver vine, there is no need to worry as silver vine is not a dangerous material, even if large amounts were chewed and swallowed. Usually, your cat will lose interest long before eating too much!
Catnip is also considered safe and non-toxic to cats.
Best Cat Chew Toys 2023
We've looked at the range of cat toys offered by Amazon and have given comprehensive reviews of our top picks. Best cat chew toys that entertain, are sturdy, safe and purposeful for your cat.
Let's take a look at the comparison chart to help you quickly find the best cat chew toy.
Cat Chew Toy
Features
Price
Potorama Flopping Fish Electric Cat Toy
Moving Toy
Sturdy
Cleanable
No batteries required



Petstages Night time Catnip Rolls
Not a noisy toy
Easy to bat and toss



Petstages Fresh Breath Mint
Dental hygiene



Petstages Catnip Chew Mice
Dental hygiene
Hunter instincts





Catnip Silver Vine Sticks
Organic soothing
Dental hygiene



KONG - Cat Wubba Hugga
Fun toy
Easy to bat and toss



Petstages Catnip Plaque Away Pretzel
Dental hygiene
Easy to bat and toss



Petstages Catnip & Cat Toy
Sturdy
Dental hygiene
Lightweight



Ronton Cat Toothbrush Catnip Toy
Dental hygiene
Sturdy non-toxic
Cleanable
Textured
Catnip and bell inside



Those are our 9 picks of best cat chew toys pointing out their features… now we'll jump straight into the reviews!
Potaroma Electric Flopping Fish gives a fun interactive wiggling fish to entertain your cat, even when you are away from your home. Your cat will never get bored with this sturdy well thought out toy.
Made from non-toxic safe and sturdy materials, the Electric flopping fish cat toy will stand up to the roughest treatment.
The realistic fish has a sensor that activated the flopping and wiggling whenever your cat touches it, and a USB cable is supplied to charge the toy, so no batteries required!
The motor part of the toy can be separated, allowing for easy cleaning.
Cats get super excited with the smell of catnip. A catnip pouch comes with this product. The catnip comes in a sealed packet keeping it fresh. Catnip known to help reduce anxiety in cats.
Very simple to charge and use. Instructions are provided.
The Poteroma Electric Flopping Fish cat toy will also provide entertainment for your kids or dog!
Buy on Amazon
Aptly named, the Petstages Night Time Catnip Rolls are a silent toy designed to satiate your cat's need to hunt and play during the late hours at night while you are asleep without disturbing you.
The rolls are filled with a premium dried catnip that will keep your cat interested for hours. The pack comes with three rolls in each, great for multiple cats.
The product will eventually need to be thrown out as it will become damaged after much use. It is an inexpensive toy, so having spares to replace the chewed ones would make sense.
Customer feedback have some cat owners saying the hard nylon fiber, when chewed, gets sharp edges that may not be safe for cats who are vigorous chewers, therefore watching your cats when they are playing with this toy to see how they go would be a good idea.
Buy on Amazon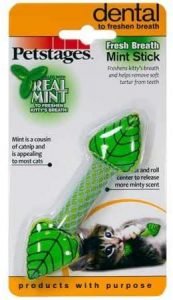 In comes the Petstages Fresh Breath Mint toy, that not only freshens up your kitty's breath, but helps support dental hygiene. The mint-filled dental toy has a mesh netting that helps remove soft tartar and plaque as you cat chews and bites it. This freshens your cat's breath.
The chew sticks contains natural dried mint- no artificial colors or flavors.- so safe for your cat! Mint is similar to catnip and similar in enticing cats interest. When cats chew the toy, it releases the mint smell.
Being 4.5 inches long, cats will enjoy tossing and batting the mint stick toy.
Eventually the toy will break apart, so be ready to replace it when it does.
Rated 4.5 stars by over 4000 thousand customers making it a very popular choice.
I feel, that this product claims to help with dental hygiene, however, if you feel your cats have a problem with bad breath or decaying teeth, I'd suggest seeking a veterinarian, rather than relying on this toy.
Buy on Amazon
The Prestages Catnip Chew Mice Dental Cat Toys encourage the hunting instinct in cats. This toy is ideal for engaging your cat in playful games where they can bat and swat.
Made with a mesh material that gently cleans plaque of your cats teeth as they play and chew the mice. It promotes positive chewing behavior for kittens through to adult cats. Better they chew toy mice than your furniture, hands or shoes.
Another design feature is that the toy mice are stuffed with catnip, making them irresistible to cats when they bite the toys.
Eventually the chew toy mice will wear out and will need to be tossed.
Rated 4.5 stars by over 2000 customers, making the catnip chew toy mice a favorite with cat owners.
Buy on Amazon
Organic Catnip Silver Vine Cat Chew Sticks, a healthy and safe cat toy that assists in cat dental hygiene.
Natural unprocessed 100% Matatabi Silver Vine with no preservatives or additives can be chewed and eaten by your cat. It gives added vitamins, sooths the stomach and helps with reducing hairballs.
The inexpensive pack comes with forty catnip Silver Vine sticks.
It is a chew stick as well as a toy that cats can swat around the floor.
Some customer reviews say their cat wasn't overly interested in the sticks. I guess, you would need to try them to see what your cat thinks!
Buy on Amazon
The Kong Cat Wubba Hugga has been deigned to satiate your cats desire to stalk and prey. Design features include: the unique tails crackle when played with and the toy has an irresistible textured fleece that cats can claw.
To entice cats, the product is infused with catnip. It is a toy that cats can wrestle, swat and chew safely.
I would assume that the Kong Cat Wubba Hugga toy would not be long lasting as it is made with a fleece material that a vigorous cat would likely pull it apart after a while.
Buy on Amazon
Catnip Plaque Away Pretzel by Petstages bring out the hunter in your cat! This toy is fantastic for engaging in bat and swat games that they can play on their own.
Like many of Petstages' products, the pretzel cat chew toy is made with a mesh material that gently cleans teeth when cats bite and chew it.
Toys like the pretzel promote positive chewing behavior, redirecting their chewing from household items and furniture.
The toy is stuffed with dried catnip. When cats bite it, it releases that irresistible odor that cat love.
The 2.5 inch long toy is lightweight, but durable, and can take the hard knocks from your cat.
Customers on Amazon have given it 4 stars. Negative points raised were: the toy isn't packaged in a sealed bag to preserve the freshness of the catnip and some cat owners say their cat destroyed the toy in no time.
Buy on Amazon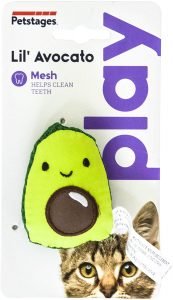 I've not known cats to eat avocado, however, the Petstages Catnip Avocado cat chew toy has similar design features to other Petstages toys that make it fun and beneficial to cats.
Design features include: a mesh material that assists with dental hygiene as cats chew and bite it. The material is soft and spongy with natural dried catnip stuffed inside, making it irritable for most cats. The avocado cat toy is lightweight, making it easy for cats to pounce upon and swat.
The toy encourages positive chewing behavior, keeping your cats preoccupied from chewing your slippers or the kids' toys.
The toy should offer endless fun for your cats.
Rated 4.6 stars by Amazon customers, indicating it must be a favorite amongst cat owners. Interesting to see that customers say it is a very sturdy product, able to put up with rough treatment by vigorous cats!
Buy on Amazon
Lastly, the Ronton Cat Toothbrush Catnip Toy which is aptly named as it is designed to be a fun toy for cat dental care. The toy is like a giant sturdy toothbrush that helps eliminate bad breath, germs and bacteria.
There are some excellent design features of the Ronton Cat Toothbrush, being made from non-toxic durable hard rubber that is indestructible and easy to scrub clean when required, and alluring texture with lumps and bumps covering it adds interest. Best of all, it has a bell within the toy that rattles when the cat plays with it and catnip is tucked inside the toys body to entice your cat. This catnip pouch is easy to remove and can be replaced whenever required.
Weighing 2.4 ounces and 4.76 inches long, the Ronton Cat Toothbrush Chew Toy is rated 3.5 stars by Amazon customers. The majority of customers are satisfied, unhappy customers say their cat is not interested in playing with the toy.
Buy on Amazon
There you have it, our 9 best cat chew toys to buy in 2023!
You may be interested in reading our reviews on:
Best Cat Trees for Large Cats in 2023
Best Self Cleaning Litter Boxes to Buy in 2023
A Final Word
Cat Food Advisor is privately owned. We do not accept money, samples, gifts, or other incentives in exchange for special consideration in preparing our reviews.
However, we do receive a referral fee from online retailers, like Chewy or Amazon (at no extra cost to you) when readers click over to their websites from ours. This helps cover the cost of operation of our free blog. Thanks for your support.
For more information, please visit our Disclaimer and Disclosure page.