What We Are About!
The team behind Cat Food Advisor .com devote time to researching cat nutrition and looking at the many different brands and products on the market- assessing their merits and flaws.
What We Do for Our Audience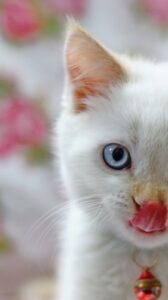 Our Ultimate Buyers' Guides help consumers with making informed decisions.
Our Comprehensive Product Reviews summarize the pros and cons of many of the major commercial cat food brands.
We Answer Questions Our Readers Have around all things Cat Food and cats in general.
Lastly, our research stretches beyond best dry cat foods. We also provide our readers with Information and Reviews on Cat Accessories, such as kitty litter, cat chew toys, cat trees, and automatic cat feeders.
Our team invites you to be part of our community and use our website as a helpful resource for supporting you and your feline pets with all their nutrition needs.
Who Are We- The Cat Food Advisor Team?
Cathy and I (Trevor) head-up a passionate family of nine, with a love for cats and all animals. We live in country Western Australia by the seaside. Our journey with blogging is a recent endeavor. We have learnt so much about building a website that viewers will find beneficial.
Our research into cat nutrition has been fascinating and a most enjoyable experience! We love sharing what we have learnt with other people to help them with their pets.
We also enlist others to help us with researching viewer questions and with writing articles.
Come and meet us in our About Us page.
Check us out with our other projects:
Enterpriseforkids.com
Funyouthgroupgames.com
Frequently Asked Questions
We receive many questions from viewers asking for advice, or for further information on feline nutrition or cat accessories. We generally get back to people with answers within 24 hours.
Please contact us if you have a question or comment.
Your questions give us ideas for articles that we can write for Cat Food Advisor. This helps all our viewers, as they will likely have the same burning question or problem as you.
Introducing Cat Food Advisor's 5 Core Areas:
1. Dry Cat Food Buyer's Guide: Important Things to Consider 
To help your special feline live a lifetime of health and wellness, understanding the important things to look for in a quality dry cat food can make a big difference. Read on to learn what makes a top dry cat food of 2021.
Paying careful attention to what you put in your cat's bowl will not only keep them looking in top condition but feeling awesome too! Feeding your cat high quality nutrition could be seen as a form of preventative medicine, potentially saving your cat from future illnesses, and helping it live a long and happy life.
2. Ultimate Guide to the Best Wet Cat Foods of 2021
Our team has researched and reviewed the best wet cat foods of 2021 products available in the market place and have presented what we have learnt in our Product Reviews, pointing out all the pros and cons. You can find the product reviews listed below this website tab.
We have presented a Buyer's Guide in this article to help cat owners understand what to look for in a quality food for their cat.
3. Ultimate Kitten Food Buyer's Guide- Best Kitten Foods 2021
Before buying a commercial kitten food, we recommend you first view our guide which identifies what to look for in a quality kitten food and what to avoid. We point out what makes the best kitten foods 2021.
Under this page we have comprehensive kitten food product reviews and articles answering the many questions our viewers have about kittens.
4. Helping Cat Owners with Information They Need When Buying Cat Equipment.
It is important that owners of a newly adopted cat ensure their pet feels loved, safe and content when they arrive to their new home. Having investigated the range of cat accessories available to accommodate felines into their human family homes, our Team is set to address the various frequently asked cat equipment questions.
We inform cat owners on the features, pros, and cons of cat gear through. We do this by providing our viewers Buyer Guides and Product Reviews.
5. Articles on 'All Things' Cats
In the beginning, we wanted to help pet owners with making choices with sourcing the best cat foo for their felines. However, as we ventured with our journey into all things cat food, we discovered that there were many questions our viewers were seeking answers for that were not just about food.
So in our Articles section, we delve into the many Cat Owner questions, together with information on cat food products that do not fit in the other areas of this website.