In this article we review the Best Wet Food for Cats 2023.
Pets are an integral part of our daily life and they become more like a family to us. The health of everybody depends upon what they eat and how they live. So is the matter with pet cats, their health and beauty and ultimately happy times of your family depends upon the food quality you are serving them?
There are two basic food types for cats: Dry food and wet food. Wet food has higher moisture levels as compared to the dry food. The food with higher moisture content is specifically beneficial for cats with urinary tract or kidney-related problems.
Moreover, it also is an excellent choice for cats with teeth or mouth issues that make chewing dry food a challenge.  Additionally, some cats find it incredibly tasty, so mixing a small amount with dry kibble can help picky eaters enjoy their mealtimes.
Here we are with a quick review of Best Wet Food for Cats 2023 by different brands so that you can choose one right for your cat.
Let's get started.
For wet cat food, our top pick as best wet cat food is Soulistic Moist & Tender Wet Cat Food which is like a dream come true for your cat as it has a menu of 4 dishes – Chicken Dinner, Duck Dinner, Salmon Dinner, and Turkey Dinner and packs 3 pack of each dinner for your lovely cat. 12 cans with 4 treats is a definite gift if you provide our cat simply with "The Best". Moreover, these treats are tasty gravy of minced food free of all kinds of Grain, Gluten, MSG and GMO because we know, not only the taste, but the health is the thing that matters the most.
If you are in a hurry, just quickly go through the comparison table below. You will find what exactly you are searching for.
Let's take a quick look at all the Best Wet Food for Cats 2022 selected for you in this list.
Pros
Made with mentioned meats
Free of animal and plant by-products
Free of artificial colors, flavors, and preservatives
Cons
Relatively high carbohydrate content
primarily uses plant fat
Fish-based foods aren't ideal for cats
Not good for cats with fish-allergy
Advantages:
Soulistic Moist & Tender Wet Cat Food is definitely a tasty treat for your precious cat. The package comes with four flavored treats and three cans each so your cat can enjoy a new treat in every meal on alternative days.
The cans are rich in moisture content as they come in the form of gravy of minced meat and are good for those who have difficulty chewing solid particles.
They claim to be absolutely Grain, Gluten, MSG and GMO-free along with added color-free so your cat's health is not at risk.
These treats are not made with farmed-animals instead they are made with cage-free chicken or duck that does not retain any added hormones or antibiotics in their meat.
With Soulistic Moist & Tender Wet Food, your cat's health is always a priority.
Soulistic is a Petco-exclusive cat food brand made by Weruva and is known for meat-based, high-moisture food made with simple recipes and minimal ingredients which ensure your cat's health is not at risk. They do not add any preservatives or colors and so are a great pick for tasty yet healthy dinner treats for your cat.
Buy on Amazon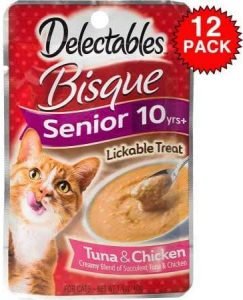 Pros
Smooth And Satisfying Sauce
Delicious Wet Texture
Vitamins E & B added
100% nutritionally complete
Cons
texture may feel weird to some
Advantages:
Delectablesoffer a Soft pate treat that satisfies your furry friend's taste buds. It features tender, real chicken and succulent fish in a lick-able pate to tempt your kitty for treats.
It contains 100% complete nutritious and flavorful ingredients that are easy-to-eat for kittens, adults and senior life stages. Also, it adds Vitamins E & B which are best for senior cats.
Delectables are grain-free treats with no added fillers or by-products or preservatives for a snack you can trust for quality and nutrition.
It is ideal to be used as a snack or use as a topper for regular food. In both ways, it is tempting and delicious.
The soft Pate comes in three different flavors, tuna & chicken, tuna & shrimp, and chicken & veggies to choose from that best suits your cat's taste.
Delectables Soft Pate Lickable Wet Cat Treats are surely a must-to-grab if you are a cat owner and your cat loves saucy juicy treats as compared to the dry treats. This wet c food offers 100% complete nutrition package for your little champ. They do not add any preservatives or glutens but do add vitamin E & B so the health of your little furry-buddy is guaranteed. Although some may feel the texture is weird but that is not the problem with every customer so it definitely earns its place on the Best Wet Food for Cats 2021 list.
Buy on Amazon
Buy on Chewy
Pros
A meat-based, high-protein food
Low carbohydrate content
Contains animal-sourced fat
Made without any artificial colors or flavors
Moisture-rich for healthy hydration
Rich in omega-3 fatty acids
Cons
Cost is above the market average
This canned food is made primarily from chicken. This combination of muscle meat and organs provides a diversity of animal-sourced nutrients, mimicking the nutrient spectrum of whole prey. The food contains dried egg product as a third source of animal protein.
The food is thickened with agar-agar, a seaweed derivative with a reputation for safety. After agar-agar, the food contains a small amount of barley grass which is one of the types of grass used as cat grass. It's a source of insoluble fiber.
The food contains salmon oil as a source of the omega-3 fatty acids EPA and DHA, along with green-lipped mussels and help to support joint health.
It offers a perfect blend of nutrients that collectively take care of your cat's health.
Dr. Elsey's Clean Protein food is trusted to be rich in animal protein instead of plant protein. Overall, this food is rich in protein with moderate fat and low in carbohydrate content which is a perfect blend for cat's health. This canned food is rich in omega-3 fatty acids and green-lipped mussels which are resourceful for cats of every age. Your cat is surely going to love you for this treat.
Buy on Amazon
Pros
high quality
budget friendly
chicken and turkey flavors
very affordable
protein-rich, grain &gluten-free
Cons
texture may seem weird to some
It packs all the important ingredients with love including Ahi Tuna, Sufficient Water, Chicken, Calcium Sulfate, Sunflower Oil, Tricalcium Phosphate, Potato Starch and Minerals.
It also adds Vitamins (Vitamin E Supplement, Niacin Supplement, Thiamine Mononitrate, Vitamin A Supplement) to the food so that your cats can feel lighter and healthier.
Moreover, Vitamin B12 Supplement, Vitamin D3 Supplement, and Folic Acid have also added to can for good brought up and better support to senior cats.
All these ingredients blend perfectly and ensure healthy gravy-like food for your cat without causing any GI disturbances and even equally good for cats that already have GI problems and are picky eaters.
Cats are obligate carnivores, and they need meat not only to survive but to thrive. This Dave's food is an optimal diet for a cat properly formulated and has thin slices of chicken & tuna in some kind of base with a "gravy"-like sauce, as well that makes a perfect happy treat for a cat and makes the owner happy.
Buy on Amazon
Buy on Chewy
Pros
quality nutrition
affordable price
balanced and rich in protein diet
good fats and low carbohydrates
tender cuts of real meat in gravy
Cons
problems with consistency of the food
It comes in different flavors and different textures like gravy or pate so that you can choose what your kitty loves the most and enjoys to eat every time.
The food includes tender cuts of real meat either chicken turkey or tuna for a savory flavor.
It is made without Soy or Corn so the food is light on your kitty' stomach and does not cause stomach irritations.
It is by far free from artificial colors, flavors and preservatives to add natural health to the food.
This recipe features a limited number of ingredients with the addition of vitamins and minerals to reduce the risk of triggering your cat's food allergies or sensitivities unless he is sensitive to chicken ingredients.
The Muse brand is a cat food-only brand and it belongs to the Purina family which are trusted for cat food for many years. This food is rich in both texture and taste and also provides complete daily nutrition to your cat so that they play around happily and ultimately make you a happy owner. Tasty canned foods which are a treat for your little furry friend. Overall, this formula is protein-rich and loaded with a natural flavor that your cat will love.
Buy on Amazon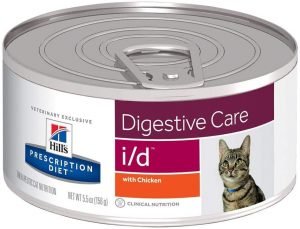 Pros
Specifically designed for GI care
rich in nutrition
good price for the quality
improve digestion and stool quality
Pate texture
Cons
more on the expensive side
fillers used
more carbohydrates
main ingredient is meat
The food is primarily made from animal ingredients because it is primarily designed to take care of the digestive system. It not only provides the best of animal protein with real added chicken but also excludes every ingredient that is supposed to cause any harm to the digestive system.
It comes in a huge variety and family is big which makes food to specifically encounter special needs of your cat.
They have specially made foods for disturbed digestive systems, respiratory systems, urinary systems and much more.
The balanced nutrition that targets the special needs of your cat like perfect weight.
The complete nutrition chart for HILL'S PRESCRIPTION DIET FOOD is not explained clearly. Although it claims to provide perfectly balanced nutrition for special needs cats like digestive system problems also there are some complaints about not having a good balance between carbohydrates and protein. Internals may be questionable but it definitely helps in the sickness for what it is prescribed by the veterinarian doctor.
Buy on Amazon
Buy on Chewy
Pros
good urinary food
still affordable
guilt and gluten-free treat
low in magnesium
Cons
some cats don't like the taste
Purina Pro Plan is a heavy name in the market of best wet and dry cat foods especially with some sicknesses like urinary tract problems.
This food is tailored to tackle many health-related issues in a more defined and specific manner.
First of all, it offers high moisture content which helps cats fight with better digestion and urinary illnesses.
Secondly, it is low in magnesium because it is the main culprit behind bladder stones in cats.
This food also lowers the pH of your cat's urine to help prevent infections.
Made with real meat (3 recipe choices), it definitely is a tasty yet highly-effective treat for your cat.
These highly specific features do not detract from the food's ability to nurture your innocent furry friend. It has a perfect blend of nutrients that collectively and individually boosts up the health of the urinary tract o your cat. And the not only the urinary system, but it also boosts immunity and contributes to the overall good health of little baby. What else you would wish to have in a cat's food- another product making it to the Best Wet Food for Cats 2022 list.
Buy on Amazon
Buy on Chewy
Pros
good urinary food
gluten-free treat
low in magnesium
maintains pH of the urine
complete & balanced nutrition
Royal Canin Wet Food
provides 
complete & balanced nutrition
for the maintenance of adult cats. In other words, this formula is 
AAFCO approved
so your cat's health is assured.
Royal Canin Canned Cat Food is formulated to meet the nutritional levels established by the AAFCO Cat Food Nutrient Profiles for the maintenance of adult cats.
It is formulated to help dissolve stones for urinary health.
It comes with Relative Super Saturation (RSS) methodology which helps reduce the chance of crystal formation, supporting overall bladder health.
And once crystals are treated, this food helps their reoccurrence.
In summary, we recognize that this product does not contain any artificial colors, artificial preservatives or meat by-product ingredients.  It is good for normal healthy cats, but not recommended for cats with UTI problems. So if your cat relates to this, it is a must to grab a product for you.
If you are not familiar with what to look in best-canned cat food for your little furry-friend, here is an explanation of little things you need to keep in mind before making a purchase.
Buy on Amazon
Buy on Chewy
Buying Guide- Best Wet Food for Cats 2023:
Food is a basic and crucial element in a cat's life which predicts the overall health and happy daily routines of the cat. You must be familiar with your cat's nature and specific needs before choosing the right food for them.
The cat food should generally be rich in protein. Cats are carnivores and their bodies need animal-source proteins for a healthy body. The cat food should be rich in proteins and low in carbohydrates.
Also, it should have a good level of fats but not of plant-origin as the cat's stomach is not compatible with plant-sourced fat.
Usually, cats with normal health can eat any of the canned cat food with a trusted quality like Soulistic Moist & Tender Wet Cat Food which has a well-balanced amount of fats, carbohydrates and proteins with least added preservatives and flavors.
Easy Digestion
But if your cat is more towards any sickness or illness, you definitely need to be extra careful before choosing the right treatment for your buddy. If they are prone to stomach disturbances or if they have any of GIT illness, you should choose a food compatible with GI disturbances on the prescription of a vet like our 6th pick in this article that is HILL'S PRESCRIPTION DIET i/d Digestive Care Food which is more towards a highly moist diet with amazing palatability and improved digestion. It not only improves digestion but also improves the stool quality of your cat.
Cats with Uti Problems
For cats with UTI tract related problem, look for a food that has a high moisture content and low magnesium to reduce crystals and stones in the urinary tract. And for this, you can go with Royal Canin Veterinary Diet Urinary SO which not only improves sickness but also prevents any upcoming infections or crystals and stones in the urinary bladder.
For a cat food high in meat protein, you may consider freeze-dried cat patties.
I hope this list of best wet food for cats 2023 is helpful for you to choose one right product for your cat. Your cat's health is our priority.
A Final Word
Cat Food Advisor is privately owned. We do not accept money, samples, gifts, or other incentives in exchange for special consideration in preparing our reviews.
However, we do receive a referral fee from online retailers, like Chewy or Amazon (at no extra cost to you) when readers click over to their websites from ours. This helps cover the cost of operation of our free blog. Thanks for your support.
For more information, please visit our Disclaimer and Disclosure page.