Looking to buy a cat tree for your large cat? In this article we have identified what we consider to be the Best Cat Tree for Large Cats. We provide a buyers guide to help our readers know what to look for.
What to Consider When Buying a Cat Tree for Your Home
Fun and excitement for your feline friend is a reason you may be looking for a cat tree, however, it is important to remember that you have to live with it too. Make it easy on yourself, and your eyes, by selecting a cat tree that is functional and that compliments your décor. Here are some things to keep in mind:
What material is it made from, and is it easy to wipe down or spot clean?
Having Parts that are replaceable
Can you easily replace worn or damaged parts such as cat scratching surfaces, non-slip materials or cat toys?
Are you wanting a large cat tree that will remain in one place or fixed to a wall; or are you seeking a smaller cat tree that you can move around with ease?
Some cat trees blend seamlessly with your décor while others stand out as a conversation piece. Which do you want to see in your home? Consider size, colors and position.
A sturdy cat tree, that is splinter free and can be fixed firmly to a wall or floor if required will keep cats safe. Also consider safety of toddlers in the family, that they cannot topple the tree or choke on parts.
You may consider buying a modular cat tree design for customization and variety. Choose one that lets you decide where to site the different levels, hideaways and scratchers. This way you can customize it to suit your cat's preferences and the space you have set out in your home. Modular cat trees also allow for expansion by adding new pieces and it makes it easy to replace worn parts.
The best cat tree for large cats can be very simple to find with the right guide.
Trees made with care and creativity will be a hit with cats. You can find the perfect tree if you understand your cat well, as only you will know if your cat is a climber, scratcher or napper.
The options we have selected and are loved by cat owners worldwide and have excellent ratings, will get you started on your journey to find the tree your cats are going to love!
So without further ado, let's get into the best cat tree for large cats:
No 1 Pick
Our best pick from our review is the Vesper Cat Furniture Tree because of its sturdy design, removable parts and memory cushions. It utilizes quality timber materials and comes with scratching surfaces.
The design has considered safety with features such as rounded corners and it is easy to install. The quality design ensures that it will look awesome in your home!
Best Cat Trees For Large Cats
| | Product | Features | Price |
| --- | --- | --- | --- |
| | Armarkat A7202 | 72-Inch large, Neutral Beige color | |
| | Go Pet Club Cat Tree | 47.5-inch small to medium-sized, Brown wood colores | |
| | Vesper Cat Tree | Removable cushions and scratchers | |
| | Go Pet Club Huge Cat Tree | Neutral colour, multi-tiered, strong and sturdy | |
| | Go Pet Club Cat Tree | Medium-sized, neutral colour | |
| | Feandrea Sisal Covered Scratching | Covered and layered, scratching posts and dynamic | |
| | Mixed Textures, compact, many colors | Sisal scratching posts. wall mounted, safe | |
| | Yaheetech Cat Tree Condo | Triple-layered, safe, cat-condo with scratch post, ramp and nest | |
| | AmazonBasics Large Cat Condo Tree | Super-tall Condo for cats, scratching posts included, large-sized | |
Reviews of the Best Cat Tree for Large Cats
This collection of the best cat tree for large cats will assist you with your decision with acquiring a cat tree. You are only a step or two away from providing endless entertainment and exercise for your cat. You won't be needing the television anymore, as you can also watch the fun and games your cats will be getting up too as they climb and play on their new cat tree!
Check out our reviews and take a closer look at these best cat trees for large cats to buy in 2021 available in Amazon stores. We have tried to be as comprehensive and helpful as possible.
Pros
Comes with all accessories
Replaceable parts
Modular
Sturdy
Easy assembly
The Armarkat product line is both pet-centric and pet-friendly. Their Cat Trees come in visually appealing materials and hues, blend with any décor. They have solid bases and foundations and support structures that are easy-to-assemble.
Their products contain safe materials that are harmless to pets and their pet parents, and in addition, you can get replacement parts easily from the manufacturer if ever required.
The Armarkat line of Pet Beds range from the most practical to the most luxurious. Their soft, cozy pet bed covers are washable, resilient and stain resistant. These models are individually designed to provide the a wonderful feline lounging experience.
The Aeromark International Armarkat Cat Tree comes with its installation manual, hammock, and tools needed for the installation.
This particular design caters for cats climbing, scratching, sleeping and exercising and the faux fur covering provides a soft padded surface. With a 4.5 star rating, the Aeromark Cat Tree is a popular choice for cat owners.
Buy on Amazon
Pros
Comes with hanging toys
Scratching posts covered with natural sisal rope
Faux Fur surfaces
Pressed timber frame
Multi-levelled for maximum playing possibilities in a small space
Instructions and tools provided
Easy to assemble
Go Pet Club's durable cat trees are made with quality pressed wooden boards that are safe for your pets. Their trees are covered in a high-quality faux fur which provides a soft, yet safe, surface for your cats. The design encompasses multiple posts that are lined with natural sisal rope, which satisfies your cats instincts to scratch. Easy to assemble, with included tools and instructions.
Buy on Amazon
Pros
Strong base and does not fall
Great addition to your living area
Has many possible play configurations
Quality look
Replaceable parts
Another high-quality choice is Vesper Cat Furniture. This one is one of Cat Food Advisor's top picks for the best cat tree for large cats as it is suitable for demanding cats.
The Vesper Cat Furniture is a fully furnished cat Condo with cubes, platforms, tunnels, scratching posts.  Weighing 40.5 pounds, ensuring that the cats won't topple the structure when playing on the tree, and made of sturdy materials that will look great in your home.
This is a favorite choice because of its dynamic and unique play areas. It makes playtime for your cats fun and provides for a place for your cat to snooze and be able to survey the room from their platforms.
Buy on Amazon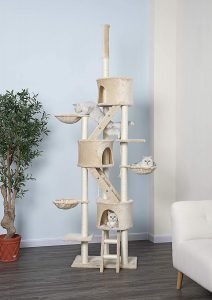 Pros
comes with 3 ladders and 2 ropes.
Multiple levels
Very large for multiple cats
Compressed wooden frame
Faux fur surfaces and sisal rope scratch posts
Suitable for medium and large cats
Cons
This is not a waterproof choice
Requires a large space
Are you looking to spoil your feline with the perfect cat tree?
The Go Pet Club Huge Tree is a great cat treehouse. This premium design will spoil your cats. Cats like to feel that they are the rulers of the world… at least their world! This cat tree is a castle!
This 106" castle will keep your cats super busy and entertained. A unique design, with 9 elevated platforms and 3 large condos, able accommodate multiple cats. The Go Pet Club Huge Tree frame is made from highly durable compressed wood covered with faux fur to keep your cats cozy. Multiple scratching posts are covered by natural sisal ropes which is ideal for cats to scratch, climb, play. Other features to add excitement include ladders, hanging toys, baskets and perches. The cat tree is easy to clean, and it requires minor assembly.
Buy on Amazon
Pros
Comes with 15 Levels
Large, suitable for multiple cats
Fur coated for extra comfort
Easy to assemble
Sisal ropes and toy mice
Large cat tree for a low cost
Cons
Not water resistant
Construction and parts are not sturdily put together
Here is a very large cat tree that can accommodate several cats. This 72" cat tree offers tremendous excitement for cats! It provides a closed space for your cat to enjoy, granting your puss a sense of security. Made using durable compressed wood, wrapped with Faux Fur to give it a soft finish.
The Go Pet Club Cat Castle features two condos with different levels and multiple elevated platforms. Other elements, such as individual perches, hanging toys and ladders are added for more pleasure, and faux fur and sisal ropes cover the posts for your cats to enjoy.
It is easy to assemble with included tools and instructions, and well priced for such a large cat tree.
The Go Pet Club is a great choice. It comes in a multipurpose usage configuration that are easy to clean and convenient for daily use.
Buy on Amazon
Pros
Anti-toppling fittings provide extra stability
Secret spots for the cats to play
Perfect for moody large cats
Extra large perch
Sisal rope posts
Value for money
Cons
Not suitable for humid areas
Not suitable for children to climb on
Cats may chew the furry ball and toy
SONGMICS cat trees have all the characteristics that will impress your cat! Enlarged top perch with raised edge, offering a comfortable lounging experience. Strong sisal covered scratching posts for cats to stretch their claws and scratch. With the dual condo design, you can accommodate two cats, each with their own bed.
Other than awesome fun, your pets' safety has been considered. A base strengthened with battens to enhance stability, and anti-toppling fittings are included so you can secure the cat tree to the wall.
Whether you have kittens, large cats or aged cats, this cat tree is a wonderful home for your furry friends.
Buy on Amazon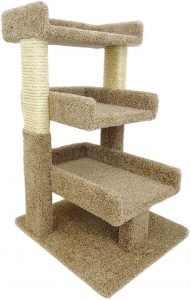 Pros
Comes in many colors
Compact and ideal for smaller places but big cats
Carpeted surfaces
Solid wood frame
Thick sisal rope
Made in USA
Very sturdy
A high-quality cat tree starts with high quality materials. Their cat trees are made strong, sturdy, safe and comfortable for your cat. They use household grade carpet, unoiled thick sisal rope for the scratching posts, and solid wood for the frame and parts.
The premier triple cat perch is one of their best selling and most loved cat trees! Even though this tree is compact, it still possesses much of what a larger cat condo has! This tri-level tower has three separate lounging areas, each with an edge to make lounging safer for cats.
This is a must have for a multi-cat household! Comes in five colors to suit any décor. No need for construction, as the New Cat Condo Premier Triple Perch Cat Tree arrives fully assembled and is proudly made in the USA!
Buy on Amazon
Pros
Simple design
Easy to clean
Multipurpose and sturdy
Premium E0 grade MDF passes formaldehyde safety regulations
Safety priority with no screw wall mounting
Expresso design- looks great!
Cons
Very large, requiring space
The Paws and Pals 3 in 1 Cat scratching pole is designed for cats who love to climb and Perch up high. All cats love to be the king of their Kingdoms! It's part of who they are. This is a better alternative to the over-engineered cat trees which clutter your living space and prevent your cat from climbing.
Having easy assembly (15-20 minute), the product includes zinc drywall anchors that can be attached to your wall with a hammer and screwdriver and also easily removed when needing too- no drilling required.
You will need space for this cat tree as it is very tall, however, its simplicity and quality look ensures it will not clutter your home.  Being easy to clean and wipe down and having been made using premium E0 grade MDF, which has passed formaldehyde safety regulations (so safe for your cats) are important considerations.
Buy on Amazon
Pros
Has multiple poles.
Assembly tools included.
Low price
Stable
Cons
Construction and parts are not sturdily put together
The Cat Activity Tree with scratching poles is a great place for your cats to play and stay fit indoors. Featuring a triple-platform with 7 scratching posts covered in jute. The platform has a curved rim, making it comfortable as a bed for your cat.
The cat activity tree is made out of compressed wood and the surfaces are carpeted giving traction for your cats to climb with ease.
Suitable for multiple cats of all sizes.
Buy on Amazon
Why Should You Get a Cat Tree?
Wouldn't it be awesome to be a cat with a cat tree to play on?  Here are some reasons why your cats will want a cat tree:
A high place to sleep: Cats love to sleep in high places. A tall cat tree gives them a perch to survey the world below. Having a place cats feel safe with a vantage point will comfort them, especially if you have children or dogs in the house that encroach on your cat's personal space.
Something they can scratch: Cats instinctively scratch. If you don't provide a scratching post, they will find other things to scratch in your home, like curtains, the lounge or furniture. They scratch it to express emotions, like stress or excitement, to mark objects with their scent (they have scent glands in their paws), to remove the dead part of their nails and to get a good stretch!
A clean home: Cats shed fur. By having a Cat Tree, your cats will leave their fur all in one place, rather than your lounge or beds.
Play time: A cat tree give your cats a play arena with tunnels, platforms, climbing poles and toys. All this offers them exercise and activity.
Human entertainment: We all love to watch our cats play. Why not have them entertain you in your home!
Conclusion
Hopefully, our Best Cat Tree for Large Cats Reviews have been helpful in helping you decide on what's best for your cat and for your home.
We have offered a range of brands, with large cat tree designs as well as smaller designs. We have also tried to cater for different budgets with quality cat tree furniture made with greater consideration to materials, safety and design, as well as budget cat trees.
A Final Word
Cat Food Advisor is privately owned. We do not accept money, samples, gifts, or other incentives in exchange for special consideration in preparing our reviews.
However, we do receive a referral fee from online retailers, like Chewy or Amazon (at no extra cost to you) when readers click over to their websites from ours. This helps cover the cost of operation of our free blog. Thanks for your support.
For more information, please visit our Disclaimer and Disclosure page.