Like humans, the immune system of cats defends itself against anything it perceives as a threat. Food ingredients
such as fish, beef, eggs, and milk are well-known allergens to felines. However, fish allergy in cats is quite prevalent compared to some food ingredients.
According to a study of 56 cats with identifiable fish allergies, fish was accountable for 13 (23%) of the cases. The study further revealed that fish comes third in potential allergic reactions trailing only beef and dairy products.
What Is Fish Allergy in cats?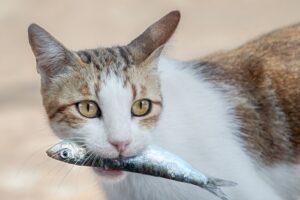 A fish allergy occurs when a cat's immune system overreacts to the protein in the fish. Pet owners commonly use fish as a healthy protein source for their cats.
However, in some cases, fish can cause contaminants like mercury to accumulate in your cat's system. In addition, fish allergy could cause uncomfortable skin conditions for some cats.
You would require an elimination diet to determine the specific allergen affecting your cat. Although the elimination diet method is time-consuming, knowing which particular protein your cat could be reacting to is needed.
How do you distinguish between food allergy and food intolerance?
A food allergy is a cat's immune system response to defend itself against something it views as a threat.
An allergic reaction does not occur the first time an individual cat gets exposed to the food substance but begins to show after continuous consumption.
On the other hand, food intolerance does not involve the immune system, and it mainly causes gastrointestinal responses, including;
Changes in the color of the cat's stool.
Unusual sound from the cat's digestive system.
Symptoms of fish allergy in cats
The following are symptoms of fish allergy in cats;
Hair loss
Itchy skin
Scratching, biting, or licking her skin.
Inflammation around the paws
Blisters/skin ulcerations
Swelling in the face/ limbs
Crusty papules
Symptoms of food allergies are typically on the head and neck of cats. Some cats can experience respiratory symptoms such as coughing and breathing problems.
Food intolerance frequently comes with and sometimes precedes a full-blown allergy to the food. It also comes with gastrointestinal discomfort and bubbling sound from the digestive system.
Causes of fish allergy in cats
Fish allergy in cats is caused by a severe defensive response to a protein that your cat perceives as an invasive material.
Most of the cat's immune system cells are found in their digestive system. During digestion, protein food substances are broken down into amino acids.
These amino acids are then absorbed by specialized white blood cells and immune cells known as enterocytes before being transported into the bloodstream.
If proteins are not adequately broken down, the enterocytes would perceive the food fragments as intruders rather than nutrients and attack. Unfortunately, the reaction of these cells becomes more aggressive over time, and the symptoms worsen.
Diagnosis of fish allergy in cats
Allergy symptoms in cats may appear similar to that of other disorders such as bacteria or mite infection.
Your veterinarian may likely collect skin scrapings to be examined under a microscope in a process known as cutaneous cytology.
If the skin cells fail to indicate any other microorganisms, your cat could be experiencing an allergy. Although serum and intradermal testing are available for cats with allergies, they are not very efficient in detecting food-related allergies.
The standard for cat food allergies is the elimination diet or food trial. Beginning an elimination diet entails changing your cat's daily diet to a limited ingredient or, in some cases, a diet of unseasoned human food.
By so doing, well-known allergens are gradually eliminated from the diet. Novel ingredients are usually required when selecting the proper diet for your cat.
Any protein or carbohydrate that has just been introduced to the cat's diet is considered a novel ingredient. Therefore, if you suspect a fish allergy, look for additional commercial diet ingredients.
Once the allergy symptoms have been eliminated, slowly reintroduce new ingredients into the diet to determine which one is causing the reaction.
It is commonly advised that cat owners stick to a mono protein or duo protein diet containing safe proteins.
Treatment of fish allergy in cats
The elimination diet may take several weeks to reveal the particular allergen affecting your cat.
During this period, your cat may continue to experience allergy symptoms. Your vet may prescribe corticosteroids to reduce swelling and antihistamines to relieve itching.
Both medications may mask the allergy symptoms, making it more challenging to determine which ingredient in your cat's diet is causing the reaction.
As a result, many veterinarians prefer to use the elimination diet before introducing these medications into the treatment plan.
Minor skin infections are also common in cats suffering allergy symptoms. In this case, antibiotics are prescribed to treat and also prevent complications.
You would have to eliminate the allergen from your cat's diet immediately after it is identified.
Other supplements such as probiotics and non-fish-based Omega 3 oils are recommended for all types of allergies as they help support the immune system.
The aim is to help your cat's body handle any accidental allergen exposure and prevent the development of new allergies.
Can cats eat canned tuna?
If you are thinking of sharing your favorite canned tuna with your feline friend, you need to consider it. Although cats love the smell and flavor of tuna fish, it can harm their health. So, while a single tuna bite may not hurt your cat, excluding it from their diet is best.
Tunas are nutritionally unbalanced as they contain a high amount of unsaturated fat and are not supplemented with Vitamin E or other antioxidants.
Similarly, canned tuna also causes fish allergy in cats leading to allergic reactions such as itching, hair loss, swollen skin, etc.
Tuna also contains high amounts of mercury, a toxic metal. So regular tuna consumption can lead to mercury poisoning, which could be pretty lethal to your cat's health.
Fish-free Cat Foods
Does your cat have a fish allergy? This shouldn't stop your feline friend from having a healthy and tasty meal. Here are some fish-free cat foods.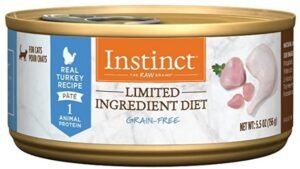 This is a grain-free cat food carefully made for sensitive cats. This meal includes protein and vegetables and is free from grain, dairy, eggs, wheat, soy, artificial colors, or preservatives.
It is crafted for cats with food allergies and contains simple and easy-to-digest ingredients such as cage-free turkey and digestible protein.
Buy on Amazon
Buy on Chewy
This high-protein recipe provides for allergy relief, improved digestion, and weight maintenance. It doesn't contain added carbohydrates and is perfect for food-sensitive cats. It is also free from grain, potato, and rice.
This nutrient-rich meal features 92% free-range lamb, organs, and bone. In addition, it is moisture-rich and contains omega fatty acids for reduced shedding.
Buy on Amazon
Buy on Chewy
Final Thoughts
Fish allergy in cats is not curable. However, symptoms are likely to disappear when the allergen is eliminated.
Note that exposure to the allergen could prompt a relapse, so you must be careful of the treats and flavoring you offer your cat.