Buyers Guide and Reviews of Our Top Picks for Best Automatic Cat Feeder 2022
Before giving our Top Picks for Best Automatic Cat Feeder, I'll share a short story…
A Short Story
When growing up, our family had a pet dog who was ruled over by two cats. Sometimes we were called away from the house for a weekend, needing to leave our pets behind. Mom would always leave a large bowl of dry cat food kibbles in the house for the cats. She would leave a high window slightly open, allowing them to come inside whenever they wanted. Always, when we returned, our cats would eagerly be waiting for us. Their food would be mostly eaten, and our beloved pets were looking simply fine. However, after one such stint away, we came back to find a big scruffy tom cat had moved into the house, and our kitties had been kicked outside by him!
How Common is it For Cat Owners to Leave Their Cats Home Alone?
It is very common for people to leave their cats behind when they needed to go away on short trips. I'm sure many pet owners would do as we did and leave a bowl of dry cat food behind for the cats to help themselves.
Only today, people like to be a little more sophisticated and utilize an automatic cat feeder. The number one gadget that pet owners ask me about are programmable cat-food dispensers that will feed their felines when they need to be away.
Are Automatic Cat Feeders Good for Cats?
If you ask animal behaviorists or veterinarians, they will tell you that cats, like dogs, are social animals and they
don't do so well when left alone. Their anxiety levels rise, and they can become stressed.
It is not advisable to leave cats to their own means, especially if it is a single kitty on its own, however, circumstances will not always be perfect and there may be times cats need to fend for themselves.
Luckily, cats are a little more independent to dogs and leaving them home alone for short periods will not detriment them too much.
If you are unable to organize a pet-carer whilst you're away, then an automated and programmable cat-food dispenser may be your best option.
What Are the Benefits of an Automatic Cat Feeder?
The obvious benefit, as we discussed above, is for when pet owners need to leave their cats behind for short stints, they are confident that their cats will get appropriate food each day.
Automatic cat feeders help deliver appropriate weight management by giving your cat the portioned feedings they require. If you have a pet who gobbles his food, a cat feeder can help slow him down. Feeders can be programmed to dispense set amounts of food over different lengths of time.
For busy people, a cat feeder can save time with feeding pets by offering a convenience, especially if you are expected to be late home from work and you know the cats will be hungry!
Which Best Automatic Cat Feeder Should You Get?
Not all automatic cat feeder options are the same when it comes to usability and reliability. They are meant to dispense a specific amount of cat food at a specified time… so you don't have too think to do it yourself.
Although this appears a perfect solution whilst you're away, cat feeders are not always dependable, nor are they built with most pets in mind. The last thing you want is a feeder that jams whilst you are away, or one that falls over from an overzealous pet.
The Best Automatic Cat Feeder will have the Following Features:
Stable dispensers with a solid base– cannot be tipped!
Sturdy fittings that cannot be broken off or chewed.
Easy to clean dispenser and bowls. Suitability to go in a dishwasher.
Easy to assemble, program and use.
An inbuilt day/night camera allows you to be able to monitor your pets
How much can the dispenser hold- needs to be enough for your pet and the length of time it will need to be fed.
Not prone to jamming.
Power adaptor and back up batteries. Best to have dual options (batteries only not advisable).
Minimal spillage- decent size bowls.
Sturdy overall product.
Timer– to allow for numerous feeding times.
Most food dispensers only use dry cat food. Some feeders can feed wet cat food. If buying a wet-food dispenser make sure the food is kept fresh (dispensers for wet cat food will have a cooling system).
Wi-Fi Controls offer convenience allowing for pet owners to manage their automated cat feeder using an app in their phone.
Gravity feeders tend to be more reliable with simpler design and working parts. Less chance of something going wrong.
Voice recording of your voice may encourage your cat and offer comfort when you are away
We have elaborated on several of the features in our guide at the bottom of this article, below our Best Automated Cat Feeder Reviews on this page.
No. 1 Pick
Out of all the products we reviewed our top pick is: PetSafe Smart Feed Automatic Dog and Cat Feeder . An award winning design, sturdy durable feeder with quality components that is easy to take apart for washing. The product is compatible with Alexa and smart feeding app, so you can remotely manage the feeder.
Let's Dive into Our Product Reviews of 'Best Automatic Cat Feeder of 2022'!
If in a hurry, check the comparison table of the best automatic cat feeders below where we have summarized their features.
Pros
Delivers food on time
Mechanism is simple
Holds a lot of food.
Remote controlling
Award Winning Design (2020)
Cons
Set up procedures require time
Not suitable for wet food
A little expensive
Remote controlling reliant on internet and power
PetSafe Smart Pet Feeder received the 2020 Pet Innovation Award for "Electronic Feeders/Waterers Product of the Year". It has numerous features, such as: being able to control and program the feeder remotely through a smart phone allowing you the convenience of setting when you want food to be delivered to your cat and in what quantity. The app will alert you if need be.
Features:
Feed your pet anytime from your smart phone with the Smart Feed App.
Personalize meals and can schedule up to 12 meals for your pet.
 The Feed Now option allows you to feed your pet in addition to the scheduled meal times for more convenience.
Meals can be dispensed in portions according to tummy need of your pet, portions can vary from 1/8 cup to 4 cups.
Slow Feed option dispenses the food slowly over a 15 minute period which helps in preventing digestive upsets
Lid, hopper, bowl and bowl holder are all dishwasher safe for convenient cleaning.
Amazon Customer Reviews' Rating: 4.5 Stars
PetSafe Smart Pet Feeder is our recommended No 1 choice. For cat owners who need to leave their pet for a day or two, or they work a long day, this product will do the job well. Other than being a little expensive, it has many functions and features including: setting specific meal times, meal sizes, delivers up 12 meals/day, mobile app control, smart phone notifications, easy setup, and handling, backing up left food, slow feeding, feed now option, top rack dishwasher safe, and a battery backup.
Buy on Amazon
Buy on Chewy
Pros
Dispense up to 48 portions by day
Increased storage capacity
Wi-Fi and Google compatible
Durable compact design
Made in USA
Home Security Smart Cam
Super Feeder  CF3 Automatic Cat Feeder
is easy to assemble using durable parts made in USA. This allows consumers to be able to get replacement parts easily and quickly if ever required. Customer reviews claim that the Super Feeder CF3 is reliable and delivers dry cat food effectively to their cats.
Features:
The super feeder CF-3 comes with a large and tough poly-carbonate chute cover especially to keep away those smart cats.
Internal electronic timer with little adjustment controller allows the feeder to send a quick snack between pre-planned proper meals
12VDC Switching power supply
Meta bracket and hardware supply supplied for mounting the feeder (so cats won't knock it over).
Basic feeder can hold up to 5 cups of food which are adjustable from very few kibbles to cups up to 48 times in a day which makes it very great for cats who need to eat less at a time due to any underlined reason like poor digestion or obesity.
It comes with a day/night camera which is perfect because you can place it anywhere you want and adjust the field of vision and close-up on whatever you want as well as being able to record, speak and listen to your pet.
Moreover, the built-in camera is replaceable with a quality cam if you have a mere focus on any of the camera functionality.
Amazon Customer Reviews' Rating: 4.5 Stars
A modern Automatic cat Feeder that delivers on what it claims. We like that it is compact, easy to pull apart and assemble for cleaning and it has a 7 cups capacity that can dispense meals for up to 46 times a day. The meal sizes are adjustable, allowing for snack sized meals between main meals.  ask for snack treats between main meals.
Buy on Amazon
Pros
accurate portions
Up to 39 portions
Minimum amounts dispensed
Cat-proof storage
Infrared sensors
No clogs
Easy to come apart for cleaning
Dual power supplies (USB & Batteries)
Large 7L capacity
Cons
Low quality voice recording
LCD is not backlit
24hr military time format
Westlink 6L Pet Feeder is suitable for both cats and smaller dogs,  it allows you to feed your cat up to 4 times a day with customized portions and scheduled feeding.
Features:
Powered with AC/USB and batteries to provide an extra backup to keep the settings when needed.
The portion of each meal can be individually customized for better convenience and control.
each meal can be programmed in portions from 1-39 portions for controlled feeding.
Small minimum dispensing of 1 portion is ideal for cats on a diet or with gastric problems.
Pet-proof, as it unlocks the control panel by pressing two keys at the same time.
Features voice recording to call your pet for mealtime, which is good when you are not around.
Built-in infrared sensors help prevent overloading of the bowl.
It can work with any type of kibbles shapes, with design that prevents clogging.
Low power requirements- cheap on electricity.
LCD monitor that shows the status of the machine.
Amazon Customer Reviews' Rating: 4 Stars
Westlink 6L automatic feeder offers a good value for the money and, according to customer reviews,  works just as the company claims. The sleek design of this feeder and large capacity allows for feeding multiple pets at once. LCD, infrared sensors, voice recorder, meal distributor and pet-lock are the great features of this design. Thought has gone into the design with regards to cleaning, it is easy to separate parts and clean them.
Buy on Amazon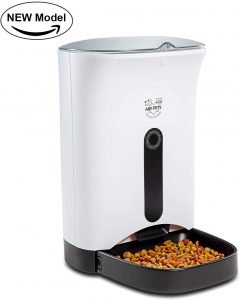 Pros
pre-assembled unit
Programmable
Easy App controlled feed timer
Customizable meal sizes
18 cup capacity
Dishwasher safe
Strong magnet on lid for safety
Control panel automatically turns offs after use
Transparent sturdy acrylic lid
Blue light LCD
Plug power in with battery back-up
Cons
Power button is at the bottom
24hrs military time format
Some complication to instructions
Feeding schedule program function is confusing for some
Arf Pet Automatic Pet Feeder take 18L of cat kibble and allows you to feed your pet up to 4 times a day with ease and convenience. This feeder dispenses from 1-10 portions at a time and the amount of each portion is 24ml approximately.
Features:
Dispenses up to 4 meals per day for your pet's healthy meal routine.
The portions are customizable from 1-10 portions being each unit equal to 24ml on average.
Features a blue light LCD for easy programming and better convenience.
The lids have a built-in powerful magnet which provides strong magnetic locking that works 2 way, make it pet proof and keep the food good for longer.
Record a personal message that will be played for calling your cats for meal times so they don't miss you.
Powered by a power adopter or batteries to provide you with a backup so the customization does not get disturbed.
Long 5ft cord so that you can decide the location for the feeder without restricting to space.
Made with quality materials and it has a capacity of 4lbs of dry food.
Amazon Customer Reviews' Rating: 4 Star
Arf Pet Automatic Pet Feeder can be managed remotely with the compatible Arf Pets' App, allowing you to monitor your pets meal times. Features that we like in this product include: distribution alarms, portion controls, voice recording, and back up battery power. The lockable lid feature prevents food spillage or your cat opening it. The tray is detachable for easy cleaning.
Everything is provided in the pack including a comprehensive users guide.
Buy on Amazon
Buy on Chewy
Pros
Quality sturdy product
Value for money
Food stays fresh for long
Easy to maintain
6lb capacity for multiple pets
Compact design- suitable for travel
Can be used for food, or water.
Gravity fed
Cons
Food tray is small
Larger sized kibble clogs hopper
Hopper is not dishwasher safe
Pet Mate Cafe Feeder is a gravity feeder is a simple sturdy compact design, making it a good choice for travel. Being gravity fed, there is less things that can go wrong. Some customers claim that the kibble gets stuck, requiring a shake of the feeder for it to roll down. This seems to be a problem with larger sized kibble. The transparent food and water dispensers allow for pet owners to see at a glance levels.
Features:
Gravity feeder is quite convenient and suitable for small pets.
The food container has a 3lbs of capacity that is way enough for a feeder.
The hopper is made up of clear transparent material that allows an easy check on remaining food levels for better convenience.
The base and the lid of the unit are ergonomic and dishwasher safe for better maintenance and reliability.
The food container is made from PET plastic which is environmentally sustainable and hence more reliable.
It is quite easy to handle, carry and lift with its recessed handle.
Dog and cat automatic feeder is available in a variety of appealing colors to complement any room of the home.
Amazon Customer Reviews' Rating: 4.5 Stars
Pet Mate Pet Cafe gravity feeder large capacity allows for many meals and multiple pets. The food and water containers lock securely, keep food fresh with no spillage. This is a cheaper alternative to the more elaborate automated programmable cat feeders.
Available in 5 sizes from 3lb to 12lb.
Buy on Amazon
Buy on Chewy
Pros
No mess dispenser
Combo for food and water
Compact and ergonomic design
Easy to handle and maintain
Strong base
Clean transparent design
1.5 gallon capacity and 6lbs of dry food
Easy cleaning
Inexpensive
Cons
No-high end features
Gravity fed kibble may get stuck in hopper
Plastic materials not as durable as other feeders
Bergan Gourmet is a simple inexpensive cat feeder and offers a water dispenser too. It can hold enough water and cat food to keep your cat watered and fed for several days. The wide opening allows for easy management and cleaning.
Features:
Small and compact unit useful for pet travel.
Made from transparent plastic, allowing for easy monitoring of food and water.
Detachable tower for easy hand washing and drying before adding the next batch of kibbles. Keeps food fresh.
BPA-free waterer and feeder hold 6 pounds of dry cat food and 1.5 gallons of water.
Inexpensive.
Made in USA.
Wide opening, easy filling and cleaning.
Simple- very little can go wrong!
Amazon Customer Reviews' Rating: 4 Stars
If you are looking for a simple no-frills option, the Bergan Gourmet cat feeder will keep your cats fed and watered. There is little that could go wrong with this dispenser.
Buy on Amazon
Pros
Simple and ergonomic
Easy maintenance
5 meals pet tray
For dogs and cats
Digital timer
Meals are rotated around at scheduled times
Compartments each hold 1 cup of food
Pet weight management
Dishwasher safe
Cons
No high-end features
Spillages possible
Battery operated
Schedule your pet's meals in advance, set the timer, fill the feeder, and when it's time for the next meal the Eatwell Pet Feeder will deliver a perfectly portioned bowl of kibble to your favorite friend.
Features:
You can set the feeding times in 1-hour increments with automatically serving up to 5 meals a day for better convenience and availability.
Suitable small to medium pets with a 1 cup capacity per dish.
It also offers weight management through manageable portion sizes.
The BPA-free plastic-made design of 5 Meal Pet Feeder food tray is easy to clean and top-shelf dishwasher safe.
It runs on 4D cell alkaline batteries with proper functionality and reliability.
Amazon Customer Reviews' Rating: 4.5 Stars
PetSafe brand has been trusted globally and leads the market in pet behavior, containment and lifestyle innovations for 30 years. It helps pets and their people live happily together by sharing their burdens in every possible way and have always been successful in this regard.
5 meal pet feeder is more on the simple side but never compromise on functionality and offers 5 best-sized meals for your pets throughout the day.
You can set timers for mealtime and the unit is battery operated for easy convenience. This is good to have cat and dog dry food feeder for small to medium-sized pets for better food availability even when you are not around.
Buy on Amazon
Buy on Chewy
Pros
Easy to setup
Sturdy and solid constructed
Fully customizable in portions
Slow dispensing
Lockable control panel
Transparent hopper
Anti-jam protection
Flexible portions 1/8 cup to 4 cups per serving
Holds 25 cups of dry or semi-moist food
Easy to clean
Cons
AC adapter not provided (but available for purchase)
Tricky to program
Petsafe Healthy Pet Simply Feed is a fully programmable automatic pet feeder that is one of the better ones we have seen based on features, quality and usability.  This unit allows you to customize portions and schedule to feed your cat according to its needs.
Features:
Has the ability to dispense up to 12 meals by the day.
It offers customizable portions from 1/8-cup up to 4 cups.
Hopper has a 24 cups capacity of dry food.
Programmable portion control allows you to manage your cats calories.
Slow feed option- dispenses slowly over a 15 minute time period to prevent cats from gobbling their food.
The immediate food option allows you to feed the next meal now right away.
With a pause feed option, you can put the machine on standby without losing any of the settings.
Locking lid and lockable control panel to prevent spillage and pets tampering with it.
Conveyer within the unit delivers food effectively.
Easy to Clean
Company claims to be a global leader with 30 years innovating quality pet products.
Amazon Customer Reviews' Rating: 4.4 Stars
Petsafe Healthy Pet Simply Feed looks to be a quality robust product, designed carefully to include reliable features making feeding time easy for the cat owner and for the cats. We like that it is easy to clean, difficult for boisterous pets to knock it over and that customer reviews are very positive about this product.
Buy on Amazon
Buy on Chewy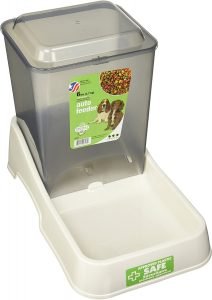 Pros
Good for larger animals, including dogs
Large capacity
Comes in 3 sizes
Sturdy non-toxic plastic
Reliable
Easy to maintain and clean
No technical difficulties
Inexpensive
Gravity fed with sloped bottom
Cons
Uncontrolled portions
No high end features
According to many happy Amazon customers, the Van Ness Auto Feeder has a simple gravity fed design that works really well, having no problems with food getting stuck or blocked.
Features:
Great design with US Food & Drug Administration approved plastic so that your pet's safety is always a priority.
Medium-sized 6 Pound Auto Feeder suitable for cats and dogs (even large ones).
A hinged top makes it quite easy to inspect, clean and seal.
The plastic body of this feeder comes with a clear smoke finish, allowing for easy viewing of food and water.
It has a spill-less valve which allows you to refill easily with no mess.
Handles for easy pickup of the main dish.
Eco Ness Safe and Green, 20% recycled content
Amazon Customer Reviews' Rating: 4.6 Stars
Van Ness Auto Feeder considers pet safety and the environment, having the components of their product made from Eco Ness Safe and Green, 20% recycled content. Here we have an inexpensive automatic cat feeder that will not fall to pieces and is not over complicated with parts that may break.
Buy on Amazon
Buy on Chewy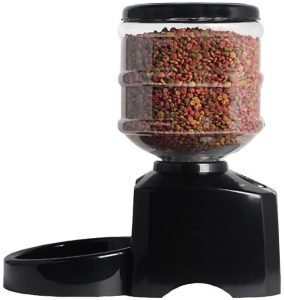 Pros
Simple yet customizable
Good looking design
LCD display
Large sized- 5.5L capacity of dry food
Voice recorder
Portion control
High quality sturdy materials
Easy to clean
Cons
Doesn't come with an AC adapter (10V adapter can be bought separately)
only 3 meals a day
This sleek, automatic cat feeder offers an easy-to-read LCD panel that displays the current time, meals you've programmed (up to 3 meals per day), meal sizes (from 1.4 to 3 cups of dry food), and meals already served. Voice recordings of you calling to your cat, can be played automatically at meal times to reassure your pet.
Features:
The PYRUS Automatic Feeder has a simple design, however, it is still programmable with electronic portion controls and meal controls.
It efficiently dispenses portions from 1 to 12 cups at 3 selected meal times throughout the day and it keeps a record of everything for you.
The Hopper of the automatic feeder can hold up to 5 liters volume of dry food of any kibble size.
Suitable for cats through to large dogs.
Efficiently handles the whole range of dry food kibble sizes, shapes & types without clogging.
Record your voice for up to 10 seconds. This is played 3 times a day at programmed meal times so your pet feels you are calling even when you are not physically around.
 LCD panel displaying functions and records of what, how much and when your pets were fed.
Amazon Customer Reviews' Rating: 5 Stars (only 3 reviews)
For a quality automatic feeder with basic features and no high-end controls, this PYRUS Automatic Feeder is a good choice. It looks good, and customer reviews claim it works as it should.
Buy on Amazon
Best Automatic Cat Feeder Buyer's Guide:
An automatic cat feeder should do several things well. We've elaborated on some features outlined earlier in this Guide.
Timer:
If your cat is used to eating at specific times, then you can offer her that same food whether you are there or not. Most timers will offer a minimum of 3 meals a day, but many others offer more meals and with portion controls for meals. This is a great feature that limits food so your cat doesn't overeat, whilst ensuring food is offered throughout the day.
Voice recording:
 If your cat is hesitant to eat when you are gone, a voice recording of your voice can be comforting to your cat. It can be set to play your voice at feeding time.
Batteries or corded:
 There are perks to both a cordless and a corded automatic feeder. If you have a cordless, you can put the automatic feeder anywhere without worrying about it being close to a plug or tripping over wires. But if you plan on taking a jaunt out of town, you risk batteries that go flat and fail to work whilst you are gone, leaving your kitty without her food.
Gravity feeders:
Gravity feeders are convenient as they will feed your cat on demand, ensuring your cat is never hungry. This is great if your cat can self regulate and not over eat . Gravity cat dispensers are not recommended for cats requiring weight management or if you have more than one cat, each on a different meal plan.
Works with wet cat foods:
 If you feed your cat wet cat food, you may not have as many options for automatic feeders because most of the feeders are compatible with dry foods. There are automated feeders specifically for semi-wet cat food. These feeders will be equipped with a cooling system to keep the food fresh.  The cooling system may be electric or ice packs.
Wi-Fi controls:
Again, offering convenience whilst you are away. Being able to control your automated cat feeder when away from the house is an added convenience allowing you to adjust feeding times, amounts and to monitor for faults. Wi-Fi controls are accessed using an App that you can download onto your smart phone or device.
Durability:
Ensuring the product is built strong to withstand large pets, prying claws and teeth is just as important as it being able to withstand repeated washing in a dishwasher.
Check what the materials are made of as you do not want a water dispenser that are made of cheap plastics that leach toxins into your pet's water, nor a feeder that has many intricate components that may break easily.
Finally, seek automatic cat feeders that have solid bases and are not easily knocked over.
Please message us with any questions you may have regarding best automatic cat feeder products we have reviewed. We will do our best to find the answers.
A Final Word
Cat Food Advisor is privately owned. We do not accept money, samples, gifts, or other incentives in exchange for special consideration in preparing our reviews.
However, we do receive a referral fee from online retailers, like Chewy or Amazon (at no extra cost to you) when readers click over to their websites from ours. This helps cover the cost of operation of our free blog. Thanks for your support.
For more information, please visit our Disclaimer and Disclosure page.