In this article we discuss the problem with having grain in cat food and we review the best grain free cat foods of 2023.
Cats are Obligate Carnivores, meaning they have evolved to eat meat to survive. A cats digestive system is not set up to digest plants, just as a cow's digestive system is not configured to eat meat! We delve into what is best for cats in this article.
Cat Food Advisor looked at the features and flaws of a selection of grain free cat foods. Our aim is to assist our viewers with making the best choices for their pets, saving them time and ensuring their cats health is looked after.
Table: Quick Review of the Best Grain-Free Cat Food
This table provides a quick overview of the best grain free cat foods of 2023. Below this table we discuss grain free cat food and provide full reviews of each product.
The Natural Diet of Cats
Cats are one of the most successful carnivores of the world. The wild version of your friendly feline pets, are true survivors, adapted as stealth hunters of small prey- hunting and consuming rodents, lizards, birds, insects, and frogs.
Everything cats require for a balance nutritious diet comes from the meat, bone, skin, and organs of these creatures.
The Necessity for Protein in a Cat's Diet
One of the main health benefits of grain free cat food is a cat's reliance on protein. They require plenty of it, and the best digestible form of protein cats can get is from meat. Meat provides the nutrients a cat requires and an essential amino acid that they are unable to synthesis within their bodies. This amino acid is called Taurine.
In the wild, cats do not consume large amounts of carbohydrates. They have evolved to only require small amounts, which they can also get from meat.
An Overload of Carbohydrates is Unhealthy for Cats
The trouble with grain and other starchy plant ingredients in many of the commercial cat foods, is that they are overloaded with an excess of carbohydrates. Carbohydrates are difficult for a true carnivore to digest. This is because cats do not produce the salivary amylase enzyme needed to break down food containing high levels of starch.
A high consumption of carbohydrates is harmful to a cat's health and should be avoided where possible.
Commercial cat foods commonly include grained fillers such as wheat, barley, rice, corn, and/or soy. This is particularly more evident with dry cat foods than wet.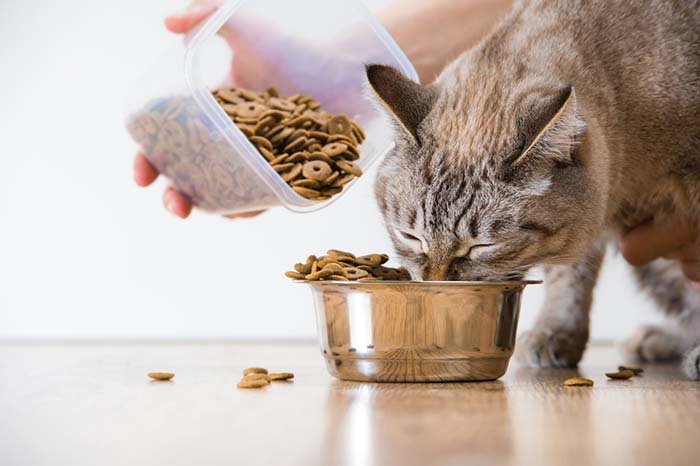 3 Benefits of Grain Free Cat Food
Shiny Lustrous Looking Coat
Cats with sensitive skin and intolerances will greatly benefit from a grain free cat food, because foods with grains have been linked with allergies that cause skin problems. Itchy flaky skin will result in anxiety and scratching. A cat with allergies will readily have a fur coat that loses its luster.
Settled and Easier Digestion
A digestive system evolved to digest meat, will have challenges when processing excessive grains. Unsettled digestion can lead to diarrhea and inefficient uptake of nutrients. An unsatiated cat will want to eat more, as its body will be craving nutrients.
Trim Healthy Weight
Cats eating too much carbohydrate are prone to putting on weight, especially if they are inactive cats. Obese cats can often become diabetic cats. A grain free food will be a step in the right direction for healthy weight management of cats.
What Cat Owners Should Know About the Best Grain-Free Cat Foods
Buying a nutritious grain free cat food that is healthy, balanced and providing the full spectrum of nutrients has challenges. Not all grain-free cat food meets the needs of cats.
Some manufacturers remove the natural carbohydrate elements from their food as well as replicate nutrients usually gained from meat, such as the essential amino acid- Taurine (* refer to note at the bottom of this article). They do this by adding supplements. However, replacing nutrients with supplements does not always benefit cats and can lead to similar problems with digestion and allergies.
A decent grain free diet needs to provide cats with all the nutrition crucial for healthy bodily function and growth.
The food needs a broad range of vitamins and minerals; fats; some carbohydrates; and most importantly high levels of meat proteins. There should be no carb replacements added.
What to Look for in a Quality Grain Free Cat Food
Meat Protein
The best grain free cat food will have a high level of protein from a quality meat. Look for food with real meat as its number one ingredient, as opposed to meat by-products.
Cats require at least two grams of protein per pound of healthy body weight in the number of calories they consume each day. Seek cat foods with at least 25% protein.
Natural
Seek products with natural ingredients, rather than synthetic- preferably organic, chemical free, no artificial flavor/color/preservatives and non GMO.
Starch
If starchy plant-based foods are included, ensure that they are listed lower down on the ingredients list, and preferably in the form of vegetables, rather than grains.
Best Grain Free Cat Foods of 2022 Reviews
Cat Food Advisor has researched each of the following products to provide viewers with an unbiased review on each.
Taste of the wild is a very high protein, premium quality dry cat food. A grain-free product, made up of real meat.
The main ingredients in this dry food are chicken meal, peas and sweet potato. Smoked salmon and roasted venison are also included in lesser amounts. A quality food rich in proteins and amino acids beneficial for muscle development.
Highly digestible nutrients and broad spectrum of probiotics with millions of living beneficial gut bacteria for a healthy gastrointestinal tract and to support a healthy immune system.
Taurine, an amino acid essential for healthy heart and vision is plentiful, as well as Omega-3 and Omega-6 fatty acids that ensure a healthy coat and skin.
The recipe includes vitamins and minerals for balanced nutrition. No artificial flavors, colors or preservatives.
Taste of the Wild is a family run business their product being made in USA. The food prepared by the company is scientifically advanced food and ensures safety protocols.
Pros
1st ingredient chicken meal
Adequate amino acids including Taurine
High protein at 42% for muscle development and body function.
Rich in antioxidants
Abundance of living healthy gut bacteria.
No artificial colors, flavors or preservatives
GMO free
Family-owned company
Made in USA (ingredients from around the world)
Cons
 Some customers say the food doesn't agree with their cats
Advertises Venison & Salmon- these are minor ingredients
Buy on Amazon
Buy on Chewy
Blue Buffalo Wilderness is a high protein (40%), grain free dry cat food suitable for adult cats.
The first ingredients are deboned chicken and chicken meal with no by-product meat ingredients. Having a high real meat content ensures adequate amino acids, especially Taurine– essential for heart and eye health (*see note at bottom of article).
Peas and sweet potatoes are used as healthier carbohydrates (as opposed to grains) providing energy for active cats. An inclusion of Omega-3 and -6 fatty acids for healthy fur and skin.
The recipe is based on a formula containing life source bits. A combination of minerals, vitamins, and antioxidants selected by veterinarians for overall immune system health.
Blue Buffalo Wilderness is a 'natural' cat food. The formula does not contain artificial flavors, colors, preservatives, soy, corn, or wheat.
Pros
Very high protein 40%
Number One ingredient is real chicken meat, then turkey
No grain (uses sweet potato and peas for carbohydrates)
No artificial color, flavor or preservatives
Omega -3 and -6 from fish meal
GMO free
Cons
 Some customers say it gives their cats urine crystals causing urinary issues
Buy on Amazon
Buy on Chewy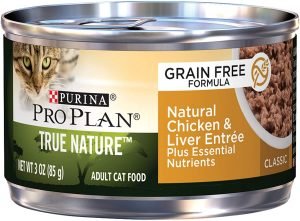 Purina Pro Plan is a natural, grain-free wet cat food served as a pate. The main ingredients are chicken and turkey meat, and liver. The ingredient list does include a by-product meat, but not a lot.
There are many other recipes with different meats available with this brand of wet cat food that our viewers may like to investigate.
Crude protein level at 11% with lower levels of Taurine to other cat foods. To boost protein, it would be wise to add a higher protein dry cat food to the mix.
The product comes in a pack of 24 pull-top cans, each being 3oz.
Pros
11% protein
Real chicken, turkey, and liver
Pull-top cans
No soy, wheat, rice
GMO free
Many different meat recipes to select from.
Served as pate
Cons
Low protein (will need to add a high protein mix to it)
Does contain lesser amounts of meat by-product
Buy on Amazon
Purina one natural is not strictly grain-free. Its main ingredient is corn, then real chicken meat.
Advertised as a low PH low magnesium recipe, Purina is better suited for urinary health. It offers an antioxidant blend for immune support. The company promotes their Purina ONE natural as veterinarian recommended.
Crude protein at 31% with sufficient Taurine (*amino acid essential for cat's heart health and vision) and Omega -6 fatty acid for healthy skin and coat. No artificial flavors or colors included; nor meat by-products.
Purina ONE Natural cat food is presented in small crunchy kibble in either a 7lb or 14lb bag. The kibble can assist with plaque control by keeping teeth clean.
Pros
Crunchy small kibble
Grain free, but does use corn as first ingredient
Chicken meat with crude protein 31%
Low PH, low magnesium beneficial to urinary health
Cons
Corn being first ingredient as opposed to real meat
Buy on Amazon
Buy on Chewy
Wellness Core Natural Grain-free dry cat food is our number one picks from our selection of best grain free cat foods of 2021. Its main ingredients are real meat- turkey and chicken. The overall meat percentage is 65% of the product- which is high and very suitable for carnivore cats.
Wellness Core has no wheat, corn, soy or rice and all ingredients are free from GMO. Wellness Core offer wet cat food as well as dry.
The nutrient packed recipe has been well formulated to provide 100% nutrition for whole body health. Omegas from salmon oil and flax seed for healthy skin and coat, probiotics, prebiotics and antioxidants for gut and immune health; and a range of minerals and vitamins for strong teeth, healthy eyes and urinary health support.
The company manufactures their product in USA using globally sourced ingredients. Wellness CORE presents themselves as a company who works closely with vets, nutritionists and scientists, to create each diet to deliver everything cat needs to thrive, for a lifetime.
Pros
Natural grain free ingredients
65% turkey and chicken meat
High amount of crude protein 45%
Free from artificial preservatives, flavors and colors
Balance of vitamins and minerals
Savoury taste small kibble
Made in USA with world ingredients
Omega from Salmon oil and flax seed
Buy on Amazon
Buy on Chewy
Best Feline Friend (B.F.F) is grain-free cat food and a product of the Weruva brand. Being a fish-based meat product, it is rich in Omega fatty acids. The main ingredients are Tuna broth, tuna, and salmon, however, if our viewers are seeking other meats, then the company offers similar products with fish mixes with either chicken, lamb or duck.
At Cat Food Advisor, we do not favor recipes heavily weighted on fish for cats. Cooked fish as opposed to raw fish is better, as excessive raw fish destroys thiamine (an essential B vitamin).
Being presented as meat chunks in gravy will be very tempting for cats. The food comes in a pack of 8, 12 or 18 2.8oz pull-top tins. There is a larger tin option as well.
Grain-free, Gluten-free, & Carrageenan-free. No corn, wheat, or soy. B.F.F is free from any artificial colors & preservative offering 100% complete and balanced diet for adult cats, with vitamins, minerals, and antioxidants.
Crude protein is a little low at 9%. Cats are obligate carnivores and for complete health they require at least 25% of their food to be protein. We would suggest mixing this food with a high protein dry food or additional fresh raw meat.
Pros
Tuna and salmon fish as first ingredients.
No grain fillers.
Free from gluten, carrageenan, soy, and corn.
Balance of vitamins, minerals, antioxidants, and omega fatty acids included.
Presented as chunks in gravy
Pull-top tins
Cons
Low protein 9%
Fish meat alone is not advisable, best altered with other meats
Buy on Amazon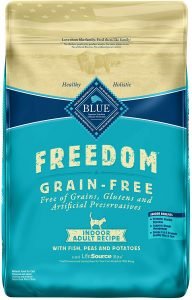 Blue Buffalo Freedom is a grain-free natural dry food for indoor adult cats. The main ingredient used in its recipe is whitefish, followed by peas and chicken meal. This dry cat food has been prepared with quality ingredients. It is free from gluten, soy, wheat, colors, and preservatives.
Blue freedom formulated the recipe to meet the requirements of indoor cats by including natural fiber and a balance of calories for healthy digestion and maintaining healthy body weight.
Blue freedom cat food is made up of using an exclusive blend of vitamins, antioxidants, and minerals. It is the best recommended by nutritionists and veterinarians for healthy oxidative balance and maintaining a good immune system.
The formula does not contain by-product meats with a sufficient crude protein level of 32%. The company promotes its product as one formulated by a team of veterinarians and animal nutritionists, combining their expertise on providing a quality cat food.
Pros
First ingredient being whitefish, followed by peas and chicken meal.
Formulated specifically for indoor adult cats.
Free from artificial preservatives and color.
High fiber, good for digestive health and hairballs
32% protein largely from meat, great for muscle development
Balance of minerals and vitamins for healthy bones
Omega fatty acids for healthy skin and coat
Cons
Only one choice of flavor
Buy on Amazon
Buy on Chewy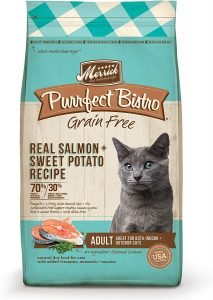 Merrick Purrfect Bistro is gluten-free dry cat food consisting of deboned chicken as its first ingredient, followed by and sweet potato. We like that it has a good balance of fats, protein and carbohydrates suitable for felines. Crude protein is 32%, which is more than sufficient for cats. Merricks dry cat food is enriched with Omega fatty acids, great for healthy skin and coat.
The company offers other grain-free dry cat food recipes such as high fiber hairball control recipe, and a salmon-based recipe. They also have a grain-free kitten kibble and a selection of wet cat foods.
The recipe is free from gluten, grain, preservatives, artificial flavors, and colors. The natural fiber is added into the recipe for management of hairballs. Minerals, antioxidants, vitamins, and probiotics are also fortified in the food for strong bones, teeth and to support the immune system.
The product is lower in calories when compared to other grain foods. This in conjunction with low carbohydrates and high fiber help with weight management, particularly with indoor adult cats.
Pros
Natural ingredients only
Omega -3 and -6 for healthy skin and coat
#1 ingredient being deboned chicken high in protein (32%)
No fillers such as wheat, soy or corn.
High fibre to help with hairballs and weight management
Lower in calories, suitable for indoor cat weight management
Free from artificial colors, flavors and preservatives.
The product is made in USA
Cons
Some customs claim their cats are fussy with it.
Buy on Amazon
Buy on Chewy
Natural balance is grain-free dry cat food with salmon and chickpeas as its first ingredients.  of salmon and green peas.
The formulation of the recipe provides a 100% nutrition for adult indoor cats. Having sufficient Omega fatty acids for a healthy coat and skin, vitamins and minerals for strong bones and teeth, and antioxidants to support immune health.
The salmon meat contributes to the 30% crude protein level and provides essential amino acids for cats.
This grain-free cat food contains prebiotic fiber for healthy digestion and easy litter box clean-up. It helps with hairball control and promotes a functional digestive system.
Natural balance does not include soy, wheat, or corn. It does include peas and potatoes for carbohydrates.
It is a healthy and potent choice and earned its inclusion to the Best Grain Free Cat Foods of 2021 list.
Pros
High protein at 30%
Contains real salmon meat as its #1 ingredient
Balanced nutrition with vitamins, minerals, antioxidants, omega fatty acids
Formulated for adult indoor cats
High in fibre for hairball control and better digestion
No meat by-products
Cons
Some customers are unhappy with the presentation and quality of the product
Buy on Amazon
Buy on Chewy
Concluding Our Reviews on the Best Grain Free Cat Foods
Of course, there are many other grain free cat foods available on the market. The products we selected for our best grain free cat foods of 2023 ticked most of the boxes when looking to provide complete grain free nutrition for felines.
We have reviewed other cat food products. You may be interested in checking out the following reviews:
Best Cat Food for Urinary Health
Taurine– 'An Essential Amino Acid that is found in animal-based meat proteins and animal organs. It is essential for vision, digestion, heart health, pregnancy, and fetal development, and for healthy immune system. Taurine is a vital amino acid required by cats. Fortunately, taurine can be synthesized from vegan sources.'
Please contact us with questions re our Best Grain Free Cat Foods of 2023 article.
A Final Word
Cat Food Advisor is privately owned. We do not accept money, samples, gifts, or other incentives in exchange for special consideration in preparing our reviews.
However, we do receive a referral fee from online retailers, like Chewy or Amazon (at no extra cost to you) when readers click over to their websites from ours. This helps cover the cost of operation of our free blog. Thanks for your support.
For more information, please visit our Disclaimer and Disclosure page.