Understanding the nutritional requirements of domestic cats and being able to sift through the many different brands, products, and options available, may seem like a daunting task to budding new cat parents, however, this need not be the case. We have identified the best dry cat foods in Amazon stores and reviewed them for are readers in this article.
Cat Food Advisor has identified what we consider to be the best dry cat foods available in 2021 in Amazon stores, and have provided comprehensive reviews on the products, pointing out the strengths and weaknesses of each.
Our comprehensive Dry Cat Food Guide for Cat Owners
In our guide we list the important things to look for in a quality dry cat food. We recommend that you view our guide HERE before purchasing a dry cat food for your pet.
Alternatively, if you want to make a quick decision, our 8 Best Dry Cat Foods to Buy in 2021 that are reviewed in this article have been identified to be nutritionally high-quality products for cats.
Our No. 1 Pick:
The best dry cat foods that we have reviewed is Fussie Cat Grain Free Protein Rich. It is our TOP PICK because Fussie Cat offers a complete nutrition using natural high-quality ingredients high in meat protein, without artificial additives or grain fillers, yet packed with extras to ensure cats get all that they need! It has been carefully formulated specifically for cats of all ages. Our No 2 Pick is at the bottom of this article.
Reviews for the Best Dry Cat Food
Pros
Veterinarian Recommended choice
Tasty chicken flavor
Light on their stomach
Easy to clean
USA made
Company donates food to cat shelters throughout USA
High fibre
Cons
Grain fillers
Some customer reviews claim the quality of batches is inconsistent
Contains one flavor per box or bag
The Hill's Science Diet Adult Indoor Cat Food, developed specifically for indoor cats, uses high-quality ingredients that include salmon, lamb and chicken meat proteins. Their website claims that their recipes have been carefully formulated by a team of veterinarians and animal nutritionists and has clinically proven antioxidant benefits.
Their recipes are made with all natural ingredients boosted with vitamins, minerals and amino acids. Rest assured that their products never contain artificial colors, preservatives, flavors or chicken by-product meal.
Although the ingredients list shows meat as the main ingredient, it does contain grain fillers. Customers have generally given excellent product reviews. Some customers claim the quality of this cat food is inconsistent from one packet to the next.
Buy on Amazon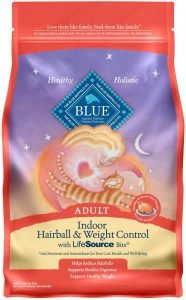 Pros
A balanced diet
Allows extra nutrition
Hairball and weight control
Meat chicken protein (no chicken by-products)
Animal nutritionists/Veterinarian input
Uses rice as opposed to wheat or soy
Cons
Only a single flavor/recipe
Another great choice is the Blue Buffalo Indoor Hairball Weight Control dry cat food. Their nutritionally balanced recipe has been specifically formulated with the input of veterinarians and animal nutritionists for maintain a cat's optimal weight. The main ingredient is real chicken meat and brown rice. The rice, used to provide carbohydrates and fiber is a better choice than using wheat, soy, or corn fillers.
The recipe is enriched with minerals, vitamins, and amino acids for healthy immune and digestive health as well as eye and bone health. Also included in the ingredients list are natural vegetables and berries. These additions give added fiber and antioxidants.
Their products are free from artificial colors, preservatives and flavors and animal by-products, making it one of one of our picks for the best dry cat foods list.
Blue Buffalo presents their product in three sized packets.
The Blue Buffalo Indoor Hairball dry cat food provides well rounded nutrition for any cat.
Buy on Amazon
Pros
Grain Free (no corn, wheat, soy)
No artificial colors, flavors or preservatives
High meat/low carbs
83% animal based proteins
Low glycemic ingredients
Probiotics for healthy gut
Reduced carbohydrates to support weight management
Smaller kibble size, easy for cats to chew
Balanced nutrition
Nulo Grain Free Dry Cat Food looks to be a very good product. We specifically like the very high meat protein content and the fact they do not have any grain fillers (rice, wheat, soy or corn), nor white potato. The meat ingredients include salmon, chicken, duck and turkey. This provides 83% of the protein in the product. Nulo have kept their carbohydrates in check, ensuring that your cat will maintain a healthy weight,
They do include an excellent BC30 Probiotic to ensure a healthy gut and good digestion. Also included within their balanced diet are vitamins and minerals.
The product is well presented as a small kibble. This is easy for cats to eat and helps with maintaining oral hygiene in cats.
They offer different products specifically formulated for adult cats and for kittens.
Nulo grain free dry cat food has been rated very highly by customers, with some finding the price of the product a little higher than other dry food products. We feel it is worth the extra expense having a quality product.
Buy on Amazon
Pros
Salmon main protein source
Prebiotic fiber for healthy digestion
Comes in a natural flavor
Lean formula for indoor cats
Balanced nutrition
100% grain free
Natural Balance Limited Ingredients Diets (L.I.D.) dry cat food is a healthy choice that has been formulated specifically for adult indoor cats with thought going into the balance of carbohydrates and protein, ensuring they are kept to a healthy weight. They offer only one flavor- Salmon and Chickpea in a 5lb bag.
As a dry cat food we like that it does not have grain fillers, which will only cause your cat bloat and digestive issues. Their main ingredient is salmon. It also contains chickpeas, peas and potatoes- providing carbohydrates and fiber. Their recipe has additional vitamins, minerals and fatty acids ensuring all nutritional requirements have been met.
Most customer reviews have been very positive, with some cat owners saying the quality of the product is inconsistent.
Buy on Amazon
Pros
Free from colors, preservatives and fillers
Range of choices
Balanced nutrition formulated for adult cats
Vitamins, minerals and Omega fatty acids
Made in USA
GMO free
Main meat protein- chicken
Cons
Rice, barley and oats included
Wellness Complete Health Natural Dry Cat Food is a balanced food with the main protein ingredient being chicken mixed with rice, barley and oats.  All natural ingredients are boosted with the additions of vitamins, minerals and fatty acids. It is free from artificial flavors, colors and preservatives. It does not include fillers such as corn, wheat or soy.
Wellness Complete Health Natural Dry Cat Food comes in three packet sizes- 2.5lb, 6lb and 12lb.
Buy on Amazon
Pros
Formulated for adult cats
Salmon and brown rice recipe
Healthy antioxidants
Natural fiber
GMO free
No corn, wheat or soy protein
No artificial flavors or colors
Rich in Omega-6 fatty acids
Rated 5 star by customers
Another favorite pet food choice for cats is the Nutro Max Cat Salmon Food. The salmon and brown rice recipe, suited to indoor cats, comes in a 6lb bag.
Nutro Max Cat Salmon Food comes with important nutrients such as Vitamin E, Taurine, Vitamin C, Tomato Pomace, and extracts from Cranberries and Blueberries- ensuring a healthy immune system and healthy digestion.
We like that the product has no GMO ingredients and no artificial flavors, colors or preservatives. It also has no corn, wheat, soy or chicken by-product meal- just real food for your cat!
Nutri cat food is rich in omega-6 fatty acids, supporting healthy skin and coat.
This recipe main protein meat ingredient is salmon, however, Nutri offers other meat proteins in other dry food products such as chicken and turkey.
Buy on Amazon
Pros
All natural protein rich meat
Grain free & potato free
Packed with minerals, vitamins and superfood extras
Several recipe choices (fish and poultry)
Products formulated for adult cat and another for kittens
A good choice for cats with alergies or a food sensitive
Cons
Some customer reviews say their cat does not like it
Fussie Cat Grain Free Protein Rich dry cat food is our TOP PICK. It offers complete, balanced high-quality nutrition using natural ingredients high in meat protein, without artificial additives or grain fillers, yet packed with extras to ensure cats get all that they need!
It has been carefully formulated with a range of meat recipes some suitable for adult cats and a recipe for kittens. Recipes include: duck and quail, chicken and quail, chicken and turkey, salmon and chicken, and salmon on its own.
The product is a good choice for cats sensitive to allergies.
The product comes in three packet sizes, 2lb, 4lb and 10lb.
Buy on Amazon
Pros
Balanced diet
Chicken meat protein
High fiber- good digestion and reduced hairballs
Comes without bloating ingredients
Lower fat content
Omega-6 and Omega-3 fatty acids- skin and coat
Cons
Does not come in many flavors
Corn fillers
The Iams Proactive Health Adult Indoor Pet Food is an exciting choice for domestic cats. Formulated for weight management of cats, with a lower fat content to similar products and high fiber. The extra fiber helps in hairball control and intestinal health. Packed with Omega fatty acids for a healthy skin and coat and added vitamins and minerals for bone strength, eye sight and immune health.
Iams' main meat protein comes from chicken and turkey which most cats generally enjoy.
Packaged in a 22-pound bag.
Buy on Amazon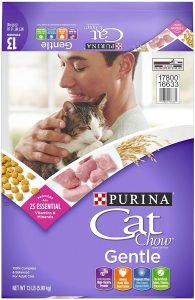 Pros
Natural fiber blend-digestive health
25 essential vitamins and minerals
100% complete balanced nutrition
Formulated for adult cats
No artificial flavors, colors or preservatives
High protein
Cons
Turkey By-product meal as main ingredient
Includes corn meal, soy meal and wheat fillers
Another great choice is the Purina Cat Chow, formulated by the company for cats with sensitive stomachs. A turkey flavored recipe boasting 25 essential vitamins and minerals for a complete balance of nutrients for cats. The company offers a variety of formulas packaged in either  a 6.3lb or 13lb bags. No artificial flavors, colors or preservatives are used with Purina's Cat Chow.
We would have preferred real turkey meat as opposed to turkey by-product meal, and a little less corn and soybean meal used as fillers.
Customers have given this dry cat food a five star rating for flavor, value for money and ingredients.
Buy on Amazon
Best Dry Cat Foods- Buyer's Guide
A full comprehensive buyers guide is available HERE. Below are the main pointers summarized:
Cat Needs
Cats are carnivores, so high protein meat should be the main ingredient. Cats are not omnivores like us humans, so they should have very little grains or plant foods in their diet.
Complete and Balanced
Cats require a balance of protein, carbohydrates, fatty acids and amino acids, together with vitamins and minerals.
Ingredients
The ingredients matter a lot. Choose options low in fat, sugars, and grain fillers. Try natural ingredients because they promote a healthy system. Steer clear of artificial flavors, colors and preservatives.
Other Health Benefits for Food
Look for Omega fatty acid rich foods for healthy skin and coat, pre and pro biotics for digestion and immune health and fiber to help with the reduction of fur balls and a functioning digestive system.
Mix Wet and Dry Foods
Although a dry food only diet offers all the nutrients your cat requires, mixing it up with tinned wet foods and fresh raw or cooked food will add variety and taste to what your cat eats.
Price
What you pay for is often what you can expect to get in quality with a dry cat food. Foods with high quality natural ingredients will cost more as apposed to animal by-product proteins and grain fillers.
The Final Pick For… Best Dry Cat Foods!
We showed you our No 1 pick at the beginning of this article. For our number 2 pick it would have to be Nulo Grain Free Salmon Duck and Turkey. A little pricier than the other dry cat foods reviewed in this article, but offering the very best quality nutrition for your cat!
Buy on Amazon
You may also be interested in the following Reviews and Articles: